This easy recipe for slow cooker spaghetti Bolognese makes enough for two large family meals.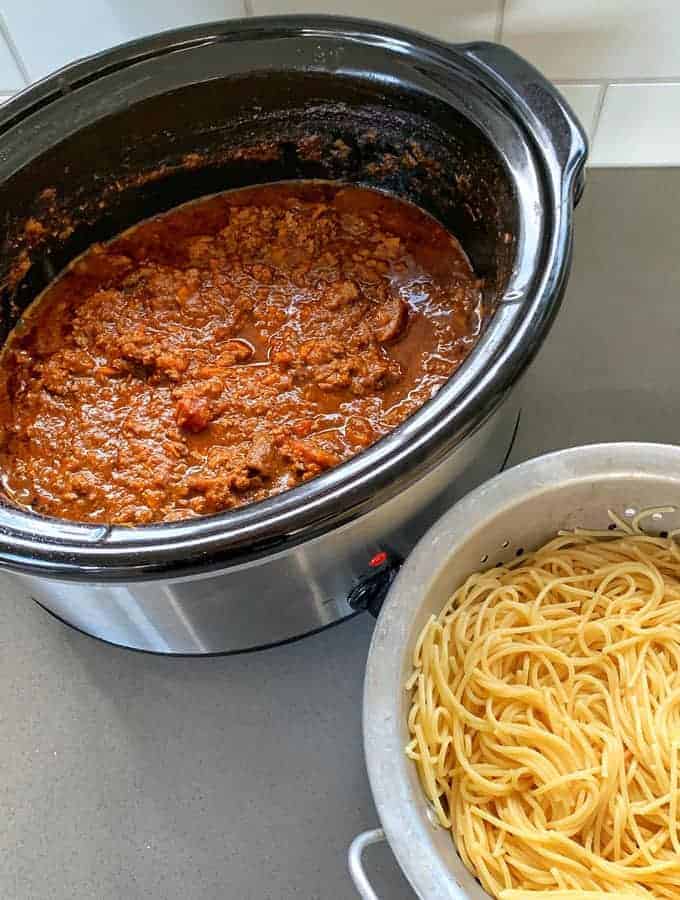 This recipe for slow cooker spaghetti bolognese is such a great one to have on hand. It makes a large batch of delicious bolognese sauce which you can use for for traditional spaghetti bolognese, lasagne or any other Italian style mince dish.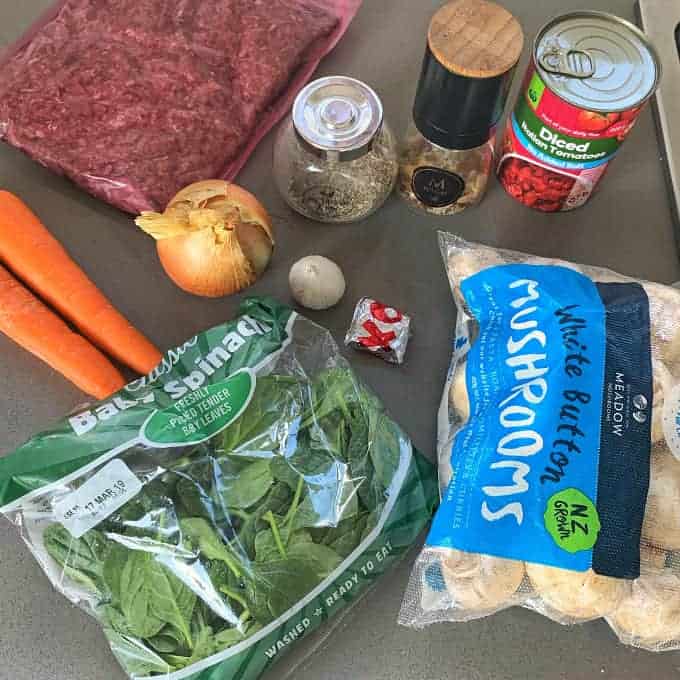 I like to brown my mince with the onion in a frypan before adding it to the slow cooker. Once this is done I add the rest of the ingredients, I like to cut up my mushrooms quite large so that it is easier easy to remove for my fussy young kids.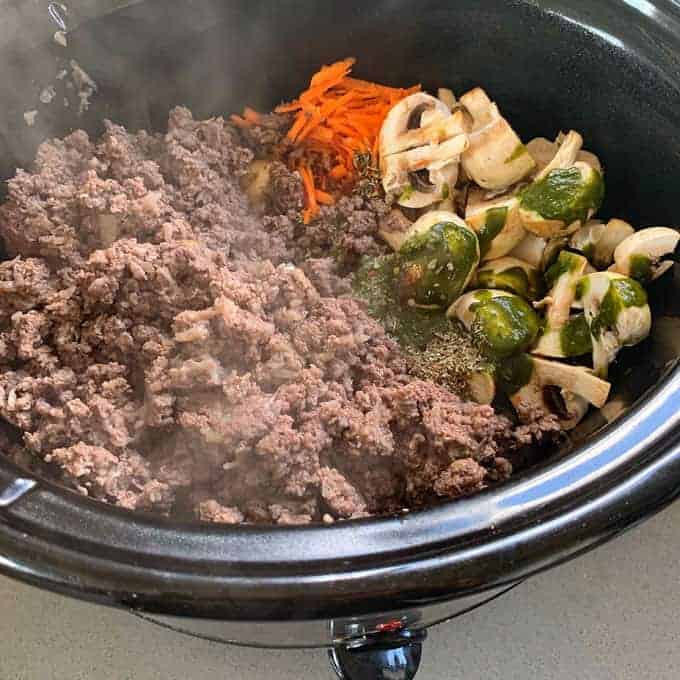 Another trick I like to do is blend one of the cans of diced tomatoes with half a bag of baby spinach, this is a great way of hiding vegetables and you wouldn't even know the mince had spinach in it. I also like to grate the carrot and onion which makes it very small, especially once it is cooked in the bolognese sauce all day.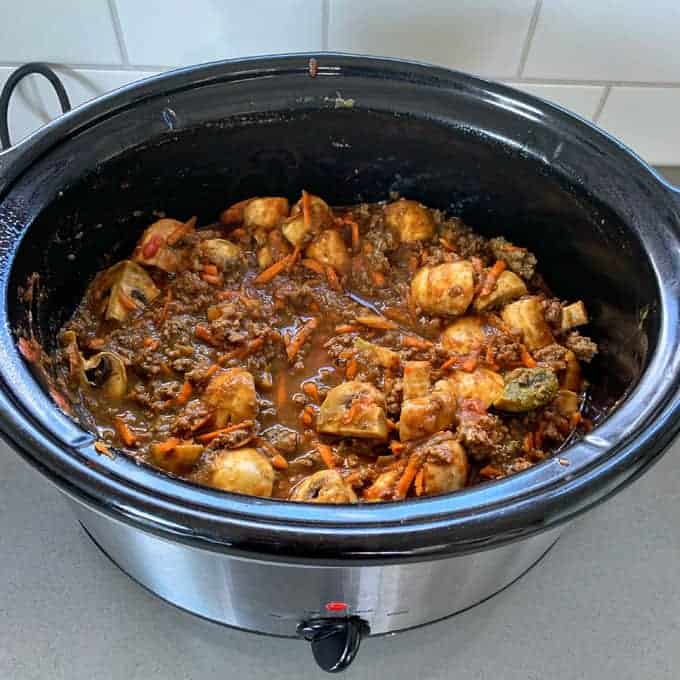 Once all of the ingredients are in the slow cooker or crockpot then simply add a tablespoon of Italian herbs and put it on low all day or high for at least four hours. Make sure you test the flavour of your bolognese sauce and add extra salt and pepper if needed. Sometimes even a small pinch of sugar is great way to balance out the flavours.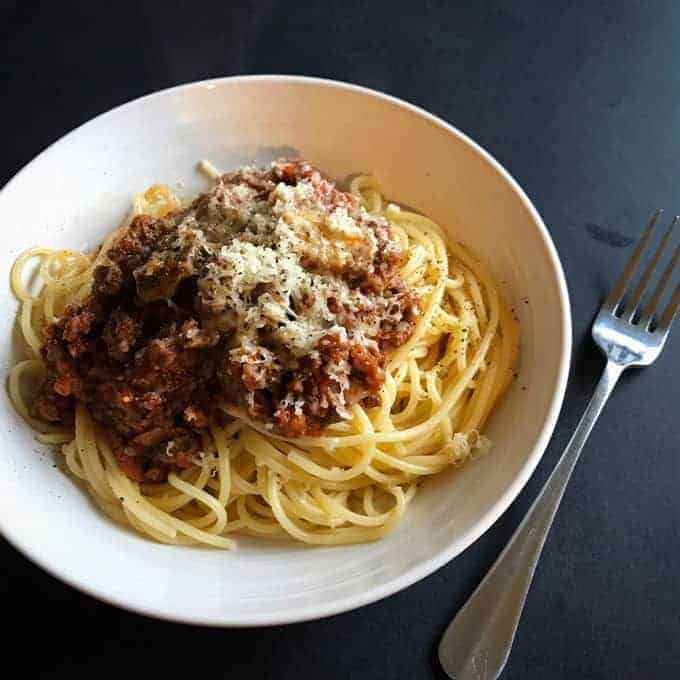 I serve my family spaghetti bolognese the first night I make it, then I use the leftover mince to create two medium size lasagnas which I layer up and then freeze. Then when I need a quick meal I simply bake one of the lasagnes from frozen for one hour and 20 minutes at 180°C fanbake until golden and bubbling.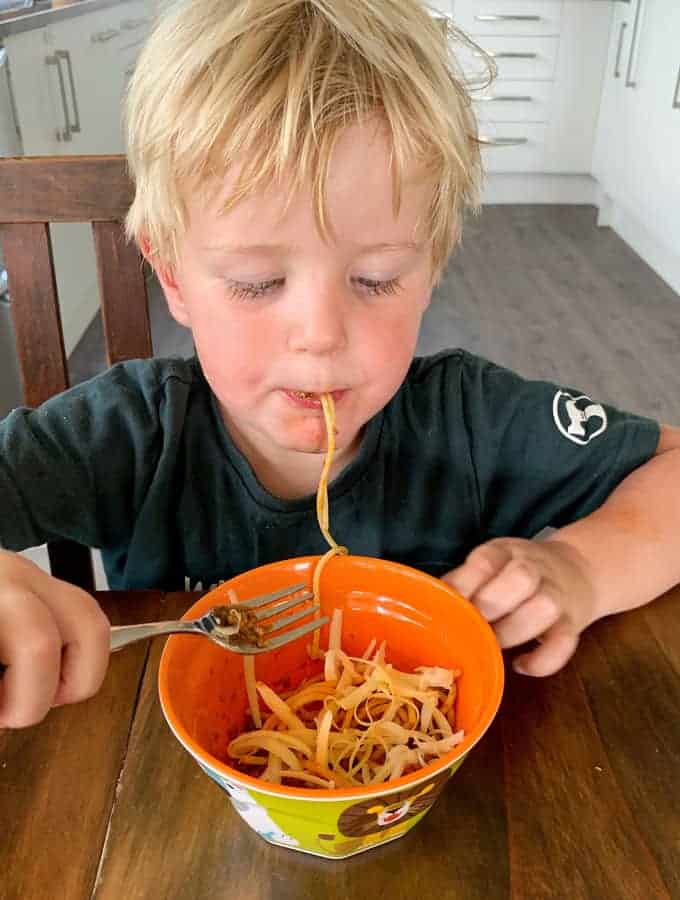 More easy slow cooker recipes to try:
Made this? Tag me on Instagram @vj_cooks and hashtag it #vjcooks
Check out the easy recipe below: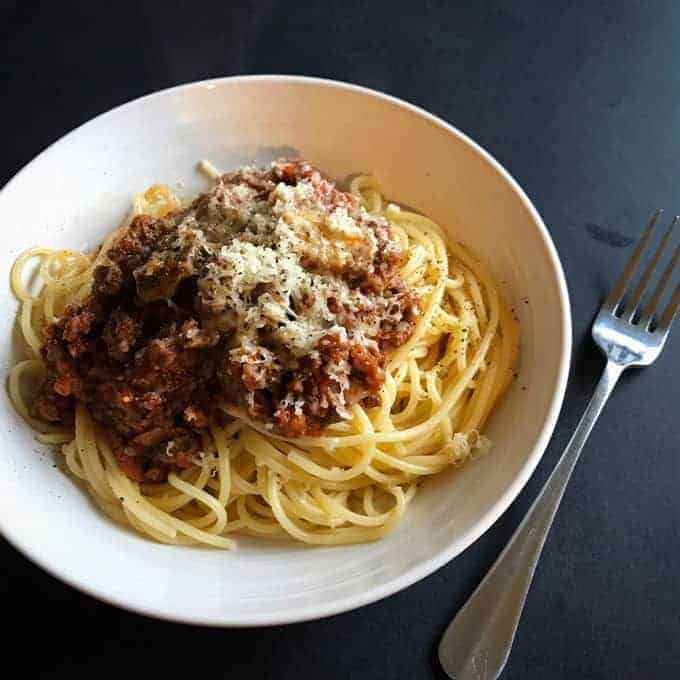 Print
Slow cooker spaghetti bolognese
Yield 12 serves
Ingredients
800g beef mince
1 onion, grated or finely diced 
70g baby spinach (optional)
2 cans of tomatoes
2 carrots, grated
1 cup beef stock, I use an oxo cube & boiling water
3 cloves garlic, grated
2 Tbsp tomato paste
250g mushrooms, sliced or quartered
2 tsp Italian herbs
1/2 tsp sugar 
Salt and pepper to season
Instructions
Brown mince and onion in a large frypan then add to the slow cooker.
Blend spinach with one can of tomatoes in a blender until finely chopped. (optional veg hiding trick)
Add carrots, garlic, mushrooms, Italian herbs, sugar, tomato paste, beef stock, canned tomatoes and spinach mix to the slow cooker.
Season well with salt and pepper then stir everything together, turn the slow cooker on to high for 4 hours or low for 6+ hours.
Stir everything together at the end and check the seasoning, add more if needed.
This mince is great for spaghetti bolognese, lasagne and other Italian style mince dishes.
Courses Dinner
Thank you so much for checking out my recipe. Follow along at my Facebook page.