This slow cooker Moroccan lamb with apricots and chickpeas is super easy, you just throw everything in the slow cooker in the morning and by dinner time you will have a delicious meal.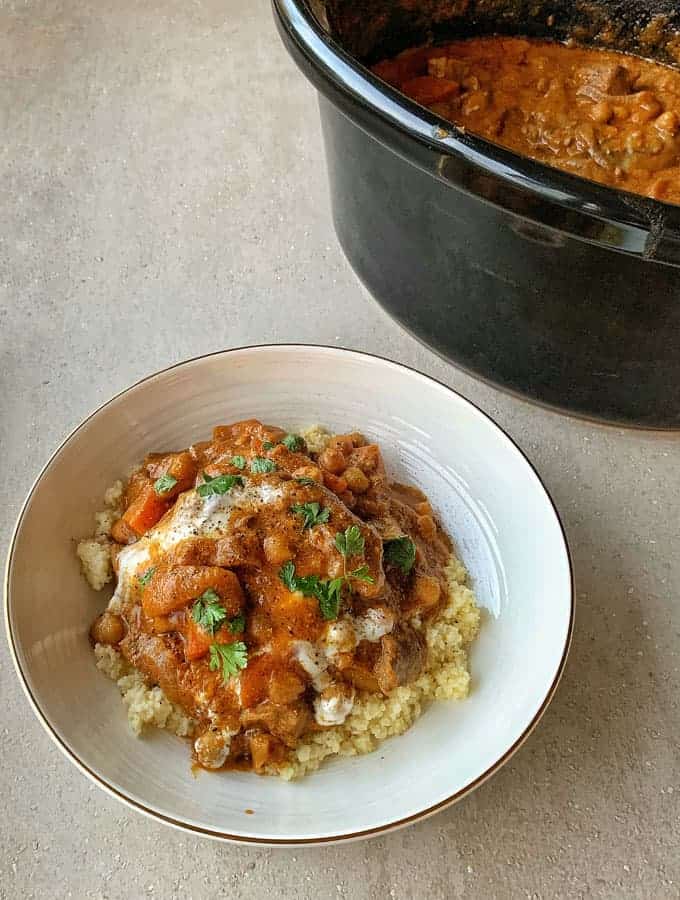 Don't you just love a meal that you can throw everything in the slow cooker and at the end of the day it's done. This Moroccan lamb with apricots and chickpeas is the perfect comfort food. I made mine with a combination of lamb neck chops and steaks, I made a large batch because I wanted to freeze some for later.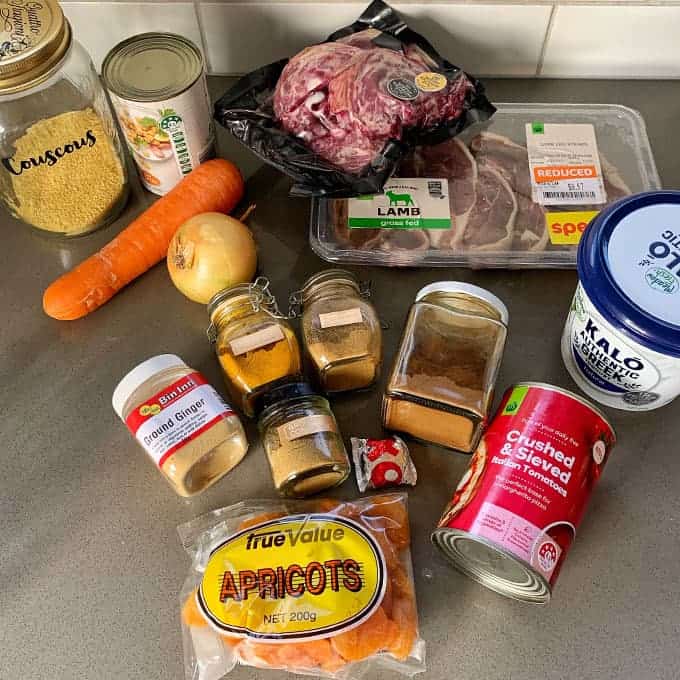 You could make this with any kind of lamb chops or sliced up pieces of lamb, just cook it until it is the meat is tender and falling off the bone. Lamb shanks would work really well too. To up the vege factor in this dish I have added carrots and onion, also the dried apricots add a lovely fruity flavour in the rich Moroccan gravy.
How to make this dish
To make this delicious meal just place all of the ingredients into the slow cooker. Then mix the spices: ginger, turmeric, cumin, cinnamon, ground coriander and salt with the beef stock. I also like to add a little bit of brown sugar which will balance out the acidity in the canned tomatoes.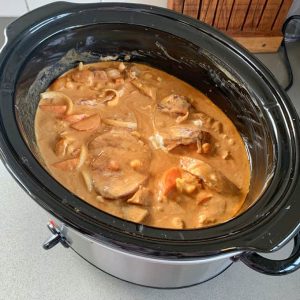 Simply mix everything together and turn your slow cooker on. Then as it cooks during the day all of the flavours will come together and you'll have one exceptional dish. If you're missing any of the spices don't worry just leave them out, I'm sure one or two spices won't make a huge difference to the taste of the dish at the end.
I like to so serve my Moroccan lamb on top of couscous so it is like a tagine style meal. You can garnish it with fresh parsley and sliced almonds to make it look authentic.
This recipe makes a large batch to feed around 8-10 people so if you only have few in your family you can freeze it in batches for later. You could use the leftovers to make a tasty Moroccan lamb pie or rolled up in filo would be delicious as well.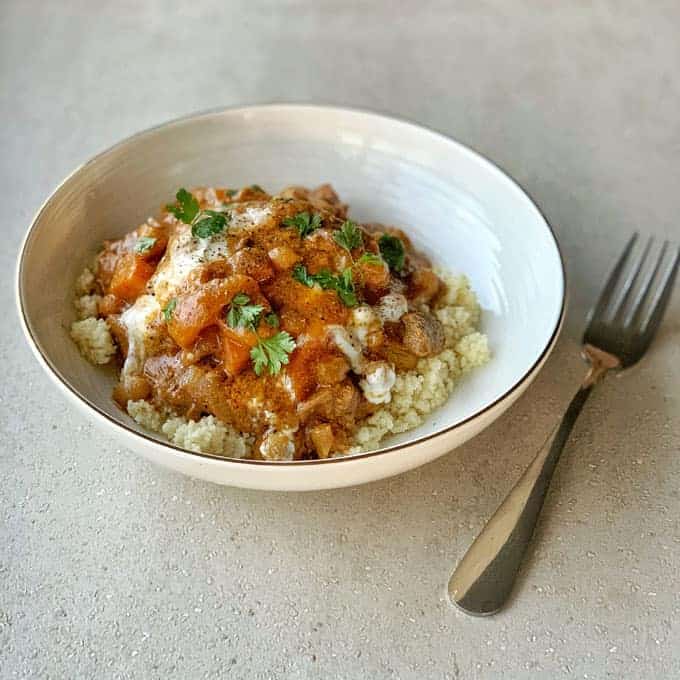 I love the simplicity of slow cooker recipes and I hope you enjoy this tasty meal. Make sure you comment below or send me a message on Facebook or Instagram if you try out my recipe.
More easy slow cooker recipes to try:
Made this? Tag me on Instagram @vj_cooks and hashtag it #vjcooks
Check out the easy recipe below:
Print
Slow cooker moroccan lamb
Yield 8 serves
Ingredients
1 kg lamb chops, steaks, shanks
1 onion, sliced
1 carrot, chopped
1 can chickpeas, rinsed and drained
1 can crushed tomatoes
2 Tbsp flour
1 cup natural yoghurt
1/2 cup dried apricots, chopped (100g)
1 cup beef stock (I use an oxo cube and boiling water)
Spices
1 tsp ground cumin
1 tsp ground coriander 
1 tsp ground ginger
1 tsp cinnamon
1 tsp turmeric
1 tsp salt
1 tsp brown sugar
Instructions
Add all of the ingredients to the slow cooker apart from stock and spices.
In a small bowl or jug add all of the spices to the stock and whisk together. Pour into the slow cooker.
Mix everything together and cook on high for 4+ hours or low for 6+ hours until the meat is falling off the bone. Stir every two hours if you are at home to do so.
Check the flavour of the sauce and season with salt and pepper.
Serve on top of couscous with parsley and a dollop of yoghurt garnish. 
Notes
This recipe makes a lot so if you have leftovers you can easily freeze in airtight containers or ziplock bags. Perfect on top of rice, couscous, jacket potatoes or as a pie filling in pastry or filo.
If you are missing any of the spices don't worry it's ok to leave 1 or 2 out, it will still have great flavour. 
If you are going to use Pepper & Me Moroccan paste then just swap all of the spices for 4 Tbsp of paste. 
To make this in the oven: Add all of the ingredients to a large casserole dish and cook for 2 hours at 170.C with the lid on. Then remove lid and cook for 30 mins until it looks amazing and the meat is falling off the bone. 
If you use chops that are quite fatty, spoon off and discard the extra fat that has risen to the top before serving.
Courses Dinner
Thank you so much for checking out my recipe. Follow along at my Facebook page.