This delicious Sticky Asian Beef can be served with rice in a salad bowl or in a bao bun with fresh veges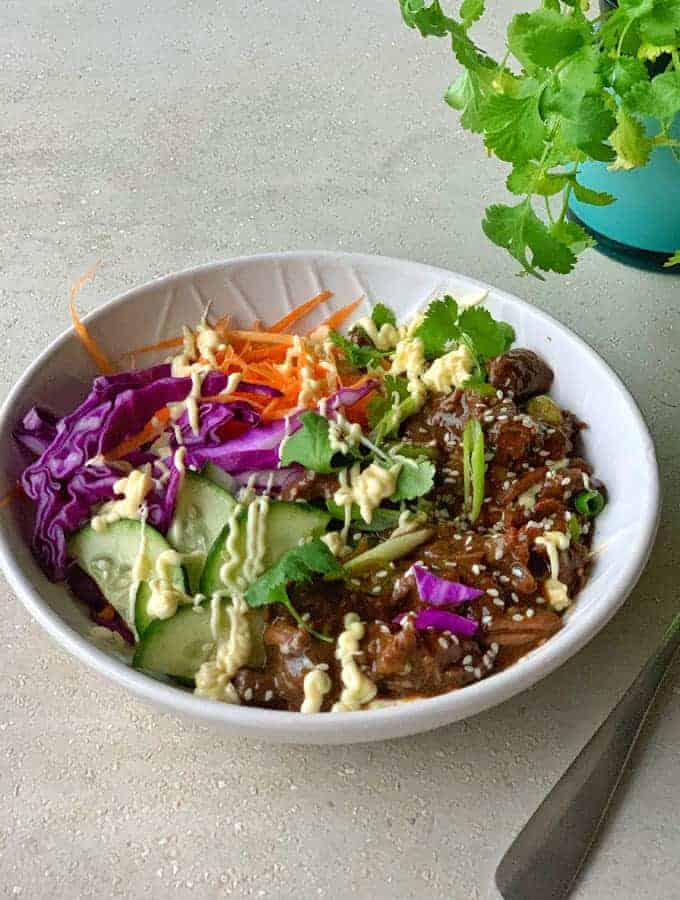 Made from fresh ingredients this tasty sticky asian style beef is a great midweek meal served as a rice salad bowl. Alternatively you can serve it on steamed bao buns with fresh veges, hoisin sauce and kewpie mayo – perfect for entertaining.
I like to cook the beef in my slow cooker which makes it quick and easy to serve at the end of a busy day. This method gives an intense flavour as the sauce cooks through the beef leaving it juicy, sticky and very tender. It makes a large batch so you can freeze the leftovers in a ziplock bag or airtight container for an extra meal.
This is such a simple recipe to make, just throw diced beef and sliced onion into the slow cooker. Coat with flour then pour in the sauce ingredients. Cook until the beef is falling apart. The flavours in the sauce would also work really well with pork or chicken.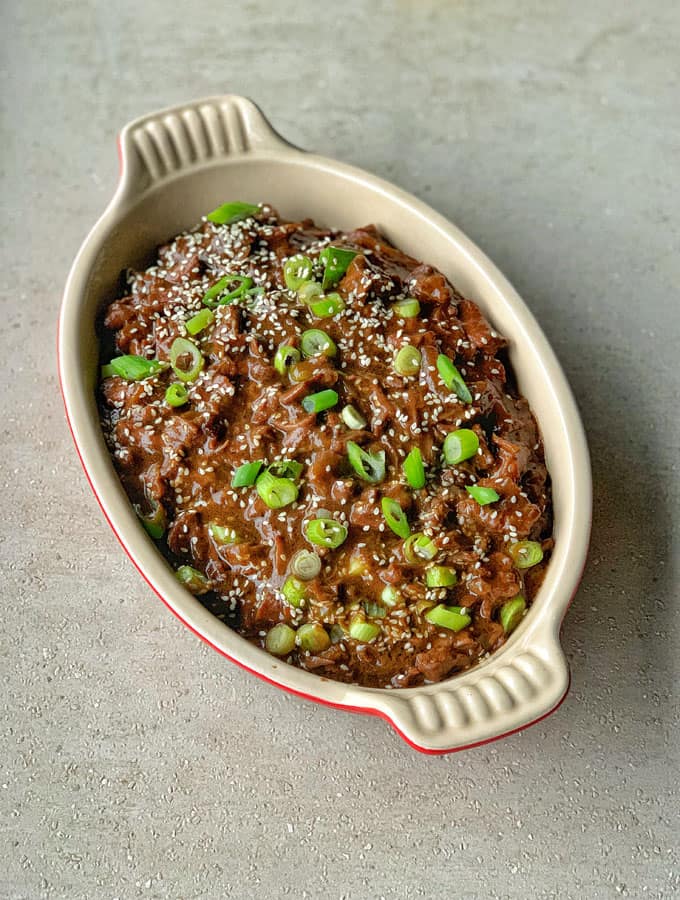 I used sliced flank steak to make my sticky beef but casserole or blade steak would be just as tasty. You can serve it at the table like the picture above – scattered with sesame seeds and sliced spring onion.
Another way to serve the sticky beef is piled into fluffy bao buns. Such a great snack for your guests whilst watching a rugby game or just as a simple weekday family meal. Some supermarkets have bao buns in the freezer section, if you can't find them then check out your local asian specialty store.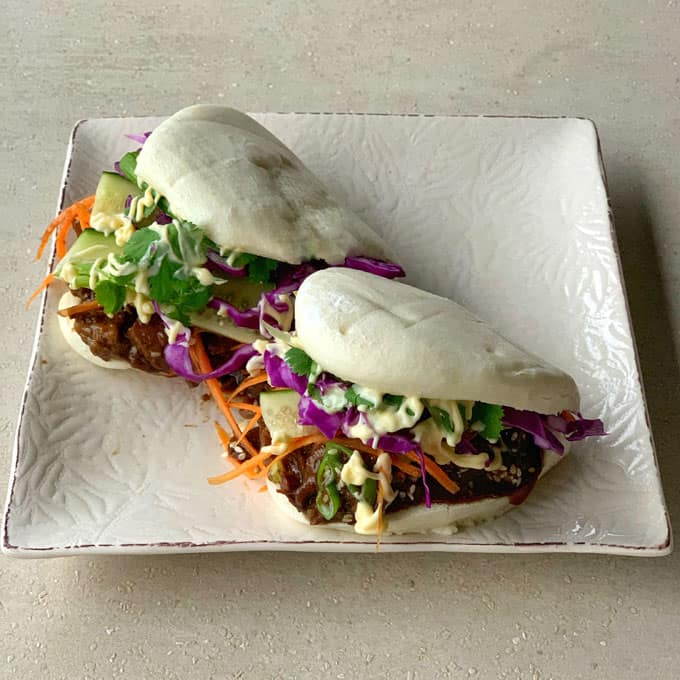 More delicious slow cooker recipes from VJ cooks:
Made this? Tag me on Instagram @vj_cooks and hashtag it #vjcooks
Check out the easy recipe below: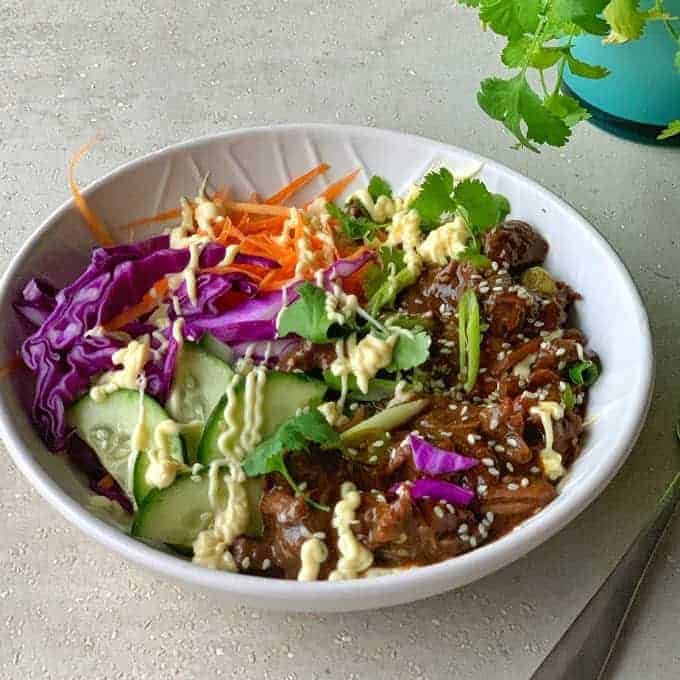 Print
Sticky Asian Beef
Yield 6 serves
Ingredients
1kg beef flank or casserole steak 
1 onion, sliced
2 Tbsp flour
Marinade 
1 beef oxo stock cube
1 cup boiling water
4 Tbsp soy sauce
4 Tbsp brown sugar 
1 tsp five spice powder
1 tsp garlic powder
1 tsp ground ginger
1 tsp sesame oil 
To serve
3 cups cooked white rice
2 carrots, grated or julienned 
¼ red cabbage, thinly sliced
½ cucumber, thinly sliced 
2 spring onions, sliced
Handful of coriander
Japanese Kewpie mayo 
Instructions
Add beef and onion to slow cooker, spoon in flour and stir to coat.
Dissolve the oxo cube in boiling water in a small jug, then stir in the soy sauce, brown sugar, five spice, garlic powder, ginger and sesame oil. 
Pour into the slow cooker and stir to coat the beef. 
Cook on high for 4+ hours or on low for 6+ hours, stirring every couple of hours. 
Serve the sticky beef on top of cooked white rice, with carrot, cabbage, cucumber, spring onion, coriander and Kewpie mayo.
Notes
Another option is to serve your sticky beef on steamed bao buns with hoisin sauce, spring onion, carrot, cabbage, cucumber, coriander and Kewpie mayo.
Thank you so much for checking out my recipe. Follow along at my Facebook page.