One of the most popular recipes on my website, Chocolate Weetbix Slice is the ultimate, nostalgic, sweet treat. Made with pantry staples, and family-favourite Weetbix, this crunchy chocolate slice is so comforting.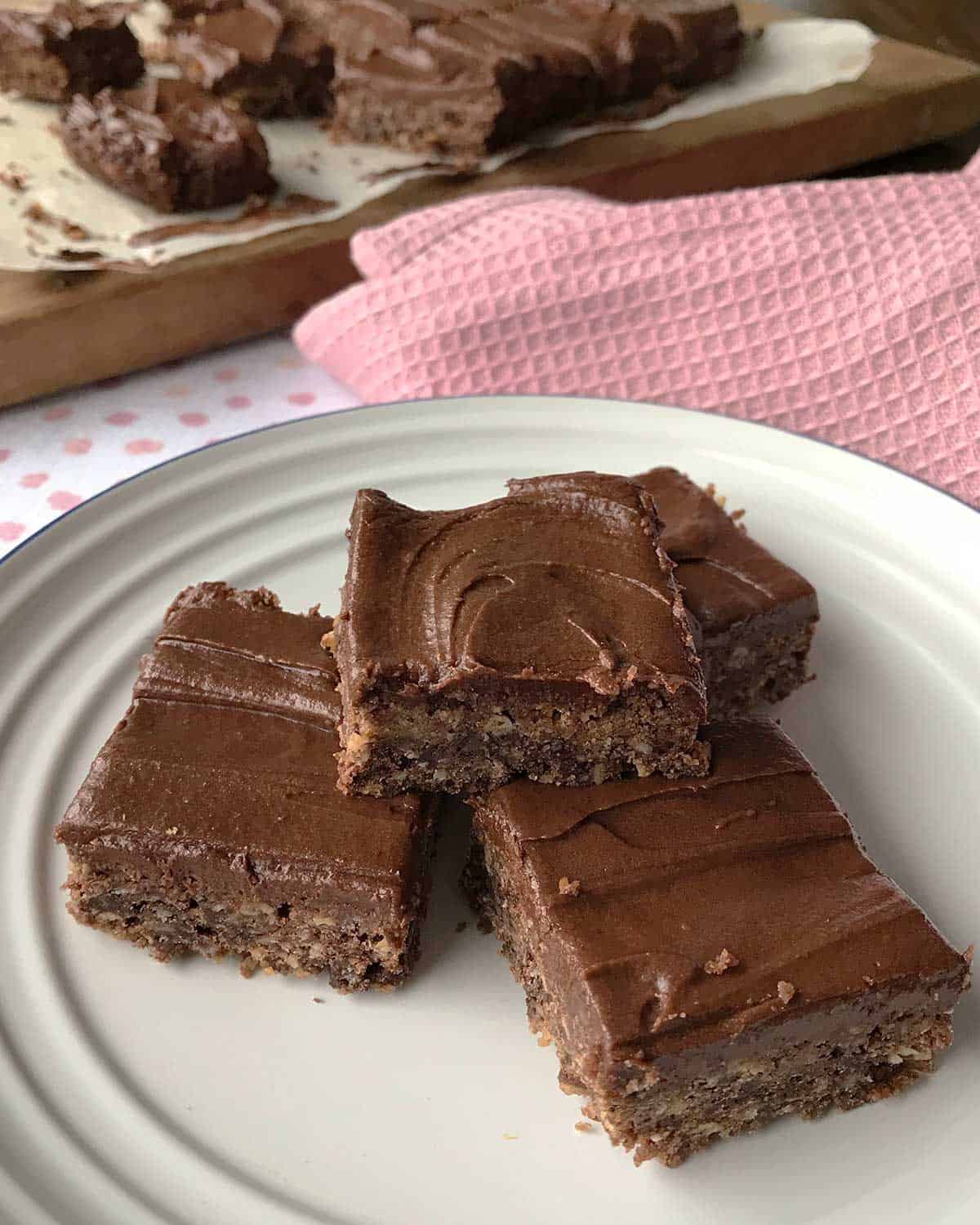 This Chocolate Weetbix Slice is a perfect treat. It's ideal with a nice hot cup of coffee in the afternoon and also a hit with the little ones. This recipe incorporates the humble Weetbix, a breakfast favourite for many Kiwis and Aussies. Sometimes it is called Wheat Biscuits or in the UK Wheetabix.
Ingredient notes: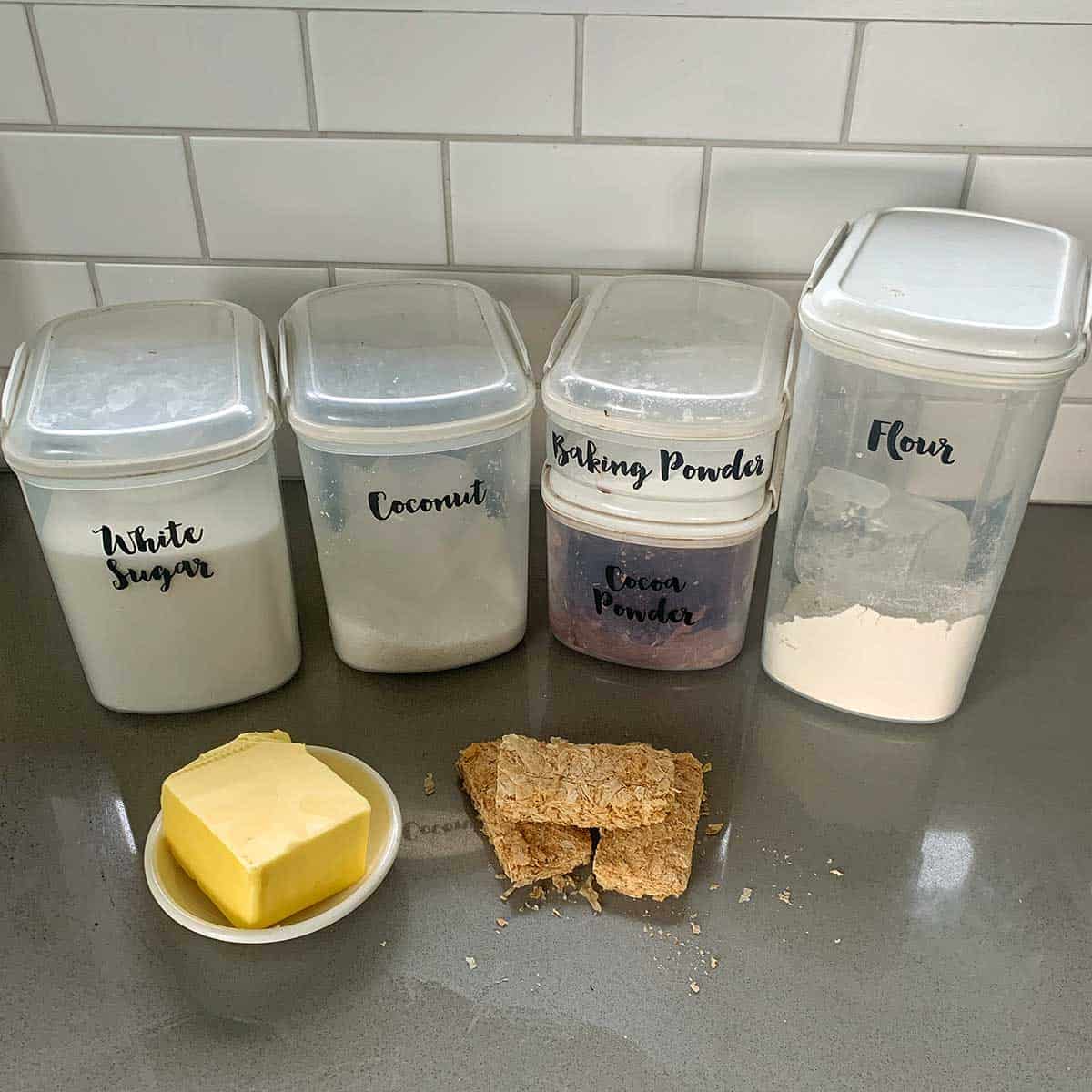 All of the ingredients needed are pantry staples. It's fairly quick to whip up, so it's the perfect go-to treat!
Weetbix: One Weetbix biscuit weighs 16g so this recipe is a great one to use up the crumbly bits at the bottom of the box. If you love Weetbix recipes as much as me, be sure to check out my whole collection of The Best Weetbix Recipes.
Coconut: A lot of people don't like coconut! To make this slice without coconut simply add 1 extra Weetbix and an additional ½ cup of flour.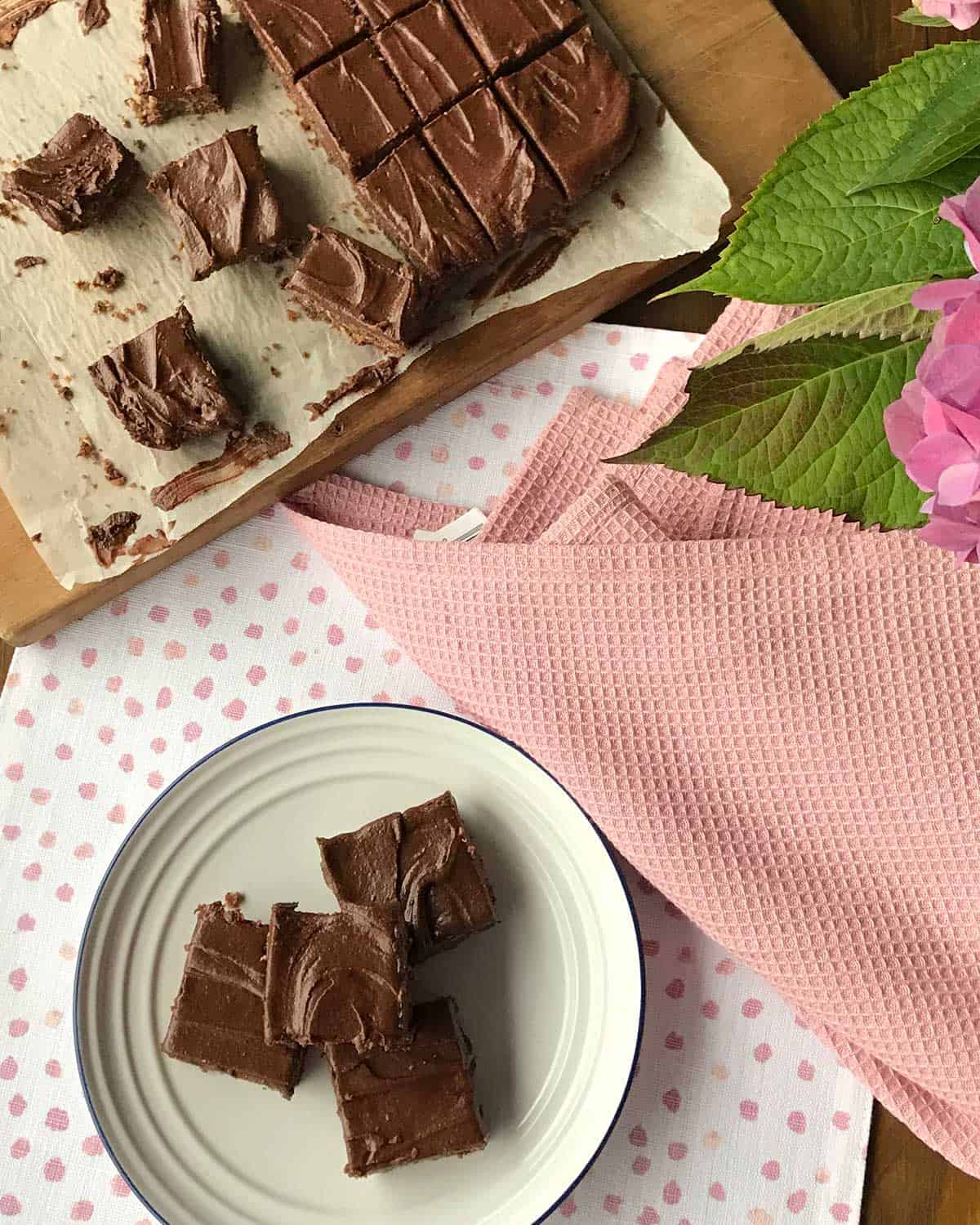 This recipe is my most popular by far, with over 3.3 million video views on Facebook, so it's sure to be a winner in your household. If you want to follow along with the video, you can find it at the top of this post.
If you love this family-friendly recipe, have you considered joining my membership? In the Cooking with VJ membership you will receive exclusive monthly recipes straight to your inbox, alongside a supportive community of home cooks trying recipes together.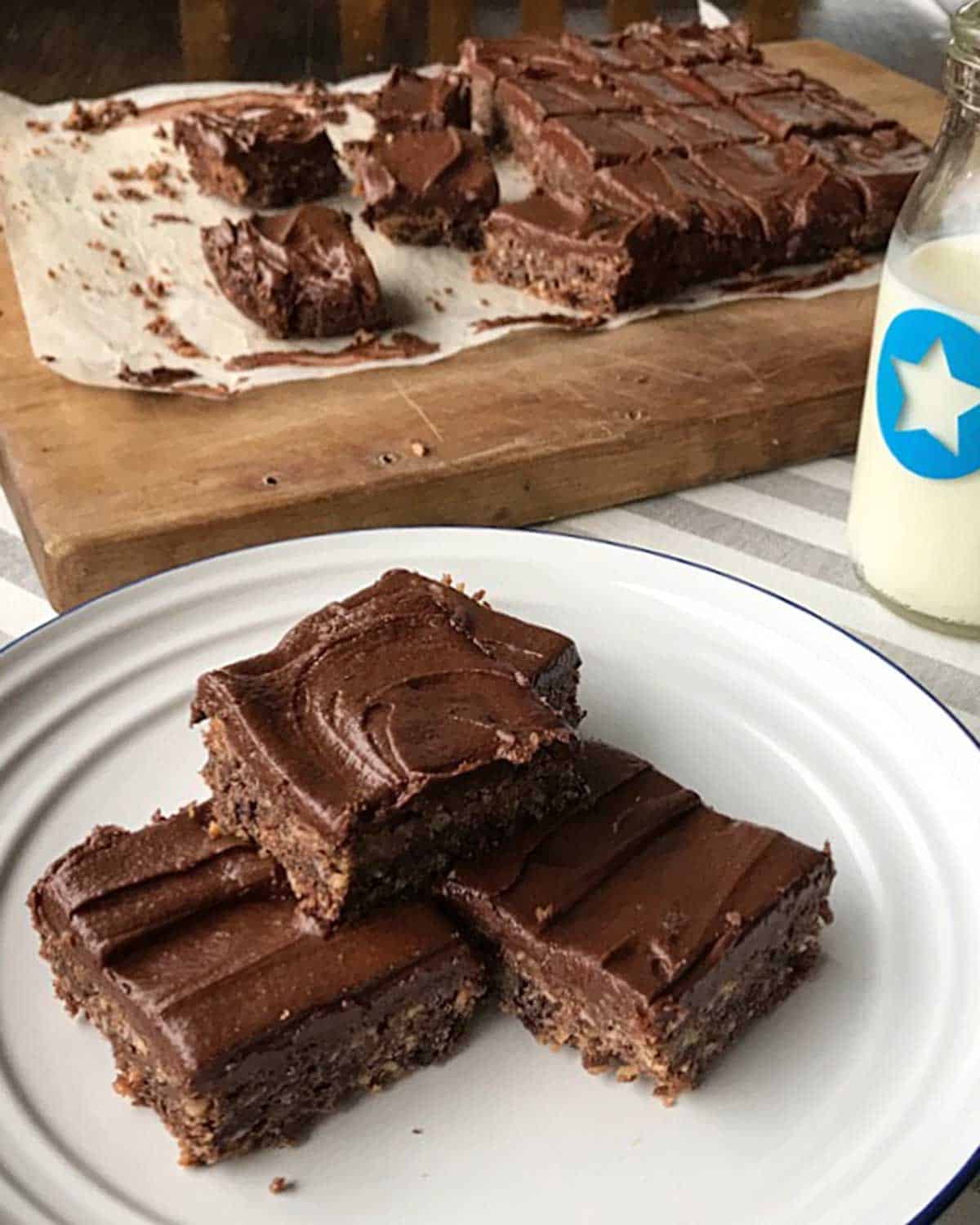 The Weetbix and coconut give the chocolate slice the perfect texture. It's soft but with a little bit of crunch, this depends on how long you cook it for. If you want a bit more flavour and texture you could add in some chopped nuts.
Pair this with the smooth, rich, velvety chocolate icing and you've got yourself a tasty slice for a sweet snack or an after dinner treat!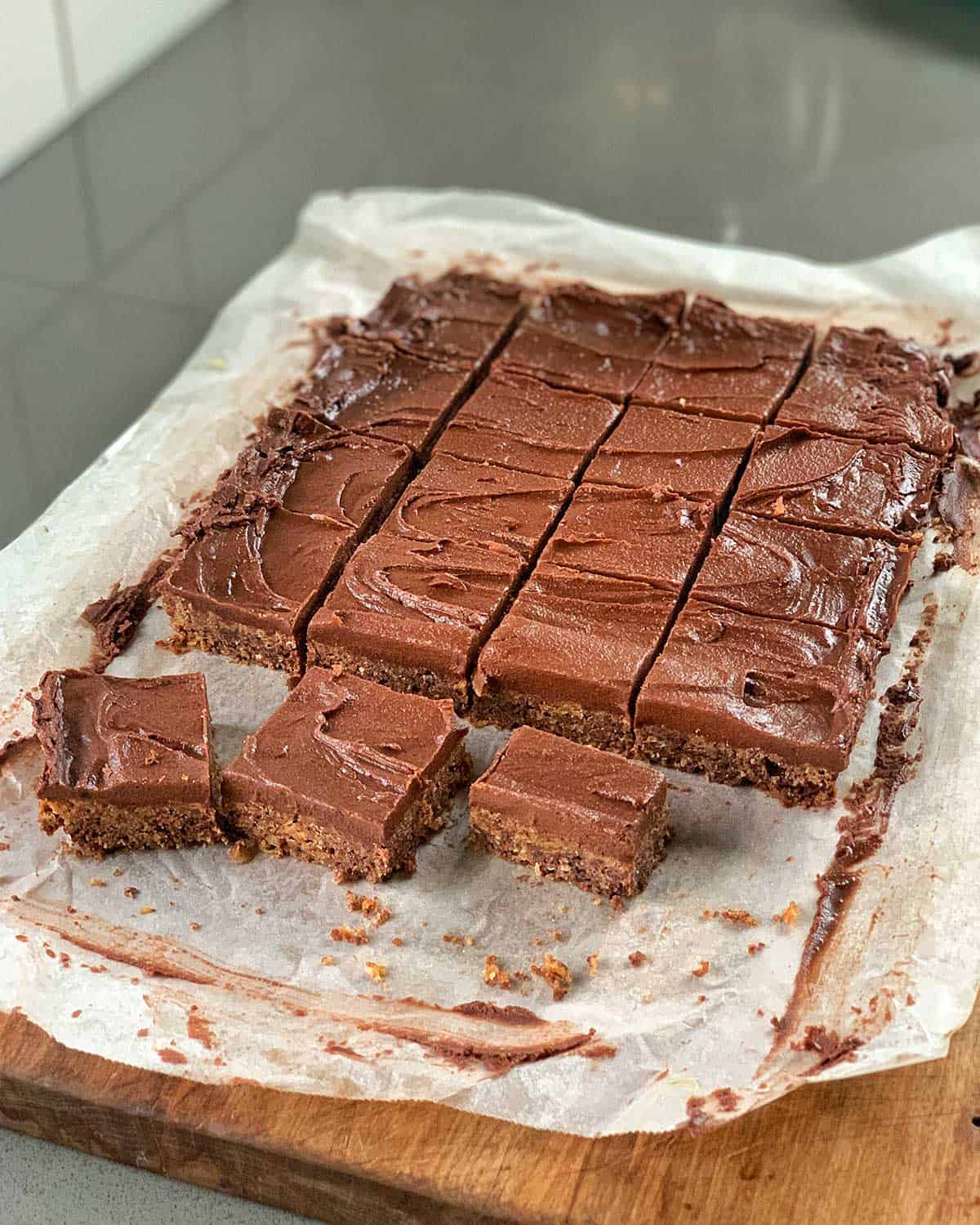 Step by step instructions:
Preheat the oven to 180°C fanbake. Place the butter, sugar and cocoa in a large saucepan and melt them together over a low heat until combined.
Remove the pan from the heat and add the crushed Weetbix, flour, coconut and baking powder. Mix everything together well. Pour into a lined tray and press firmly. Bake for 15-20 minutes.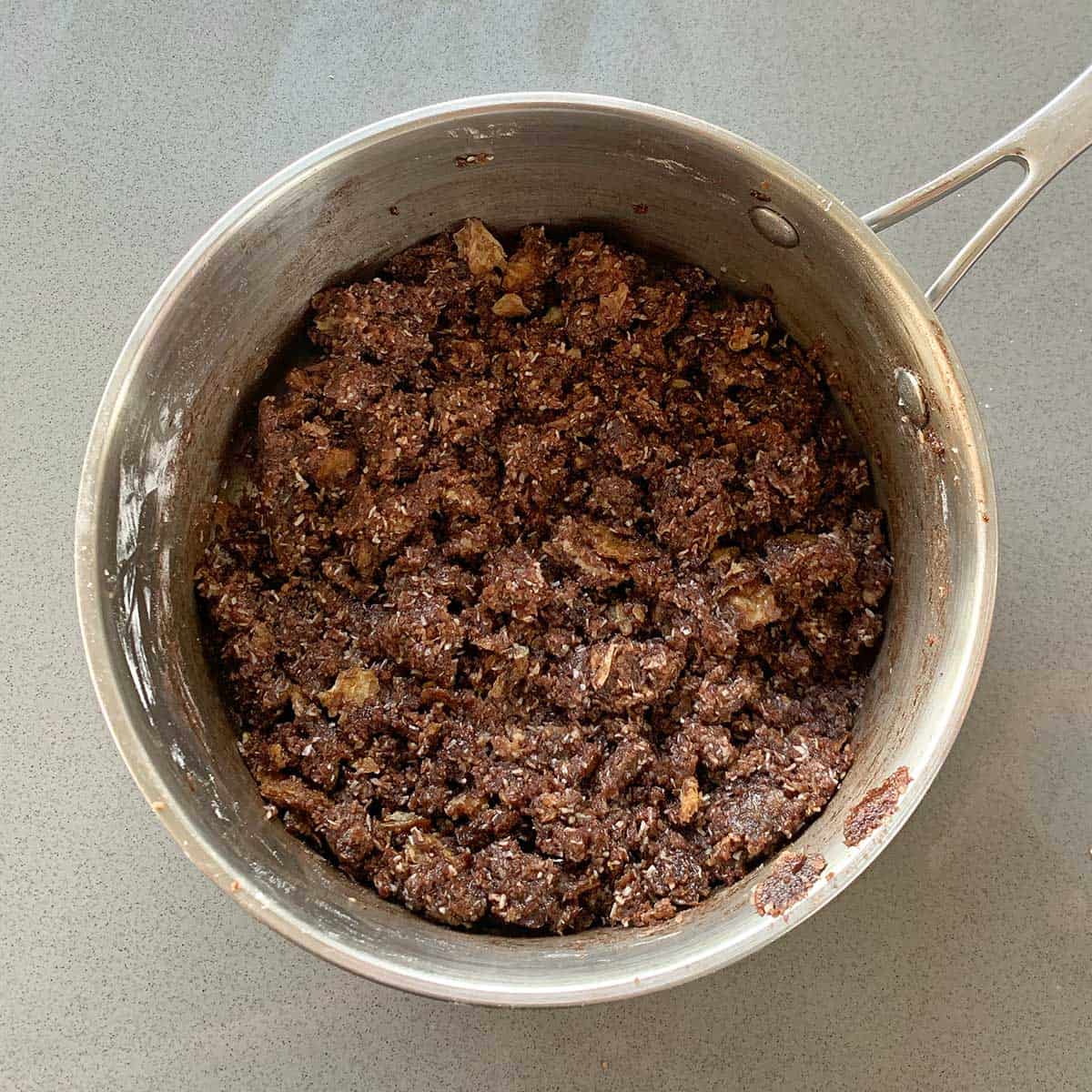 To make the icing, mix together the icing sugar, cocoa and butter. Add boiling water as needed to loosen the mixture and whisk out any lumps.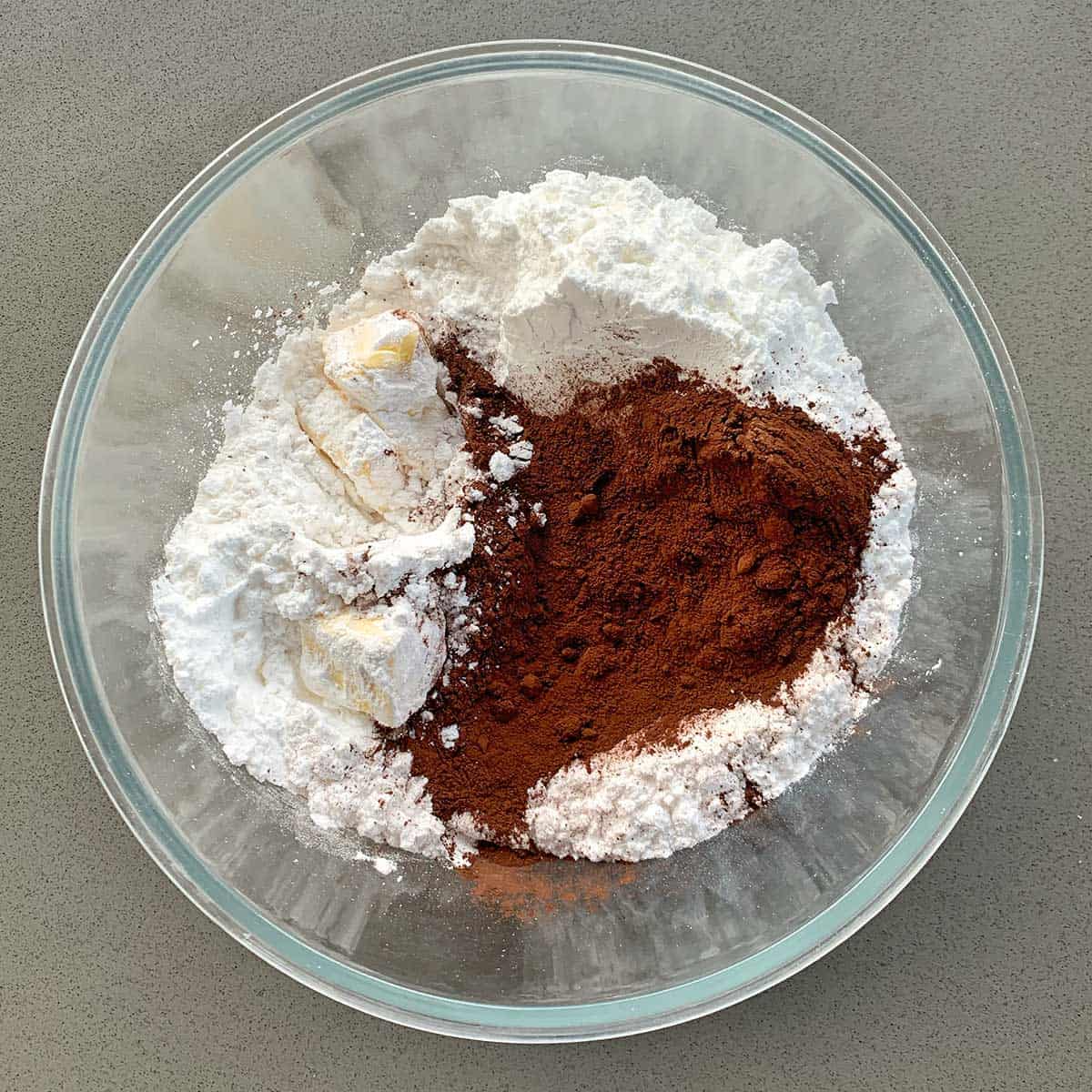 Ice the slice while still warm. When the slice has cooled and the icing has set, slice into pieces.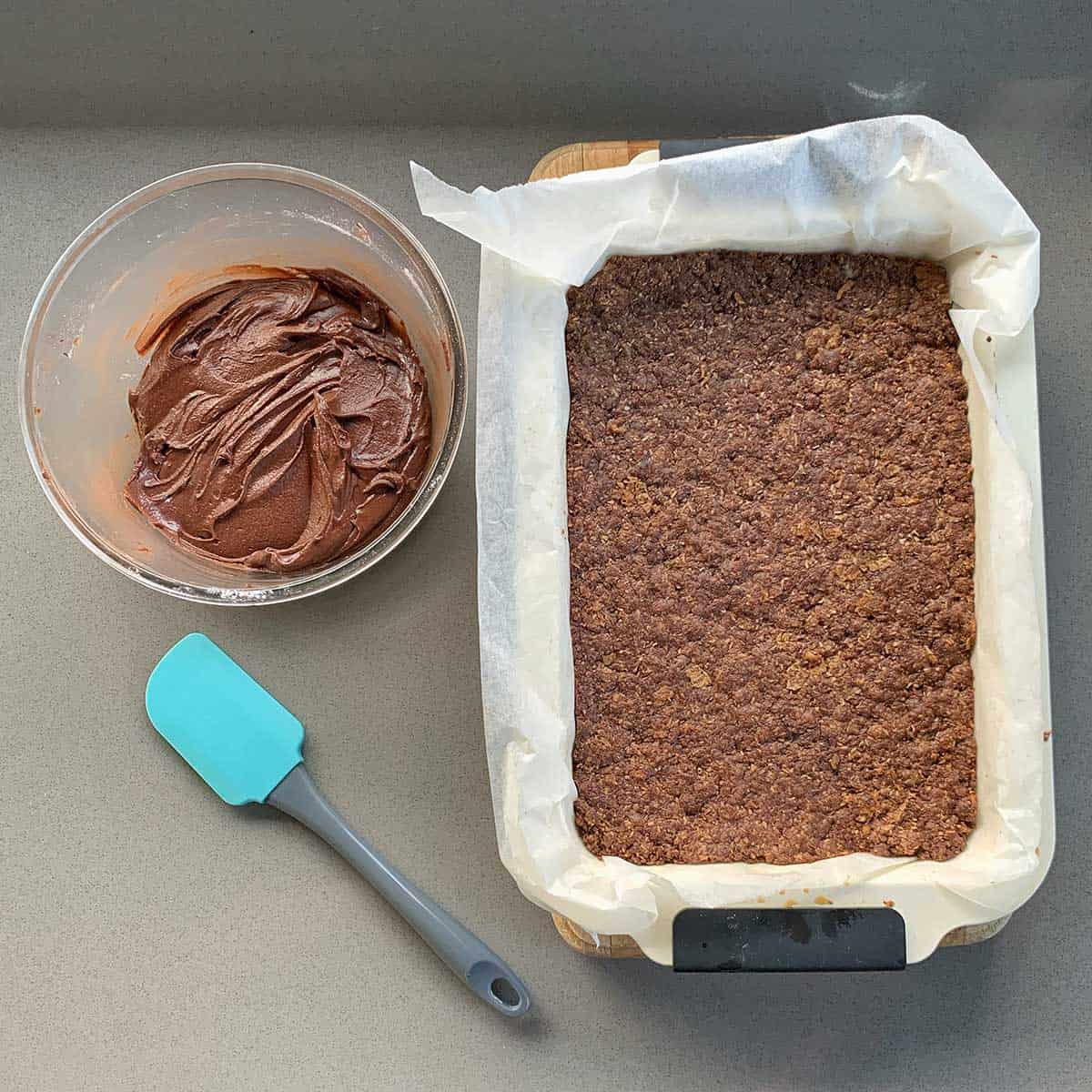 Other recipe variations of Weetbix slice:
If you want more recipes for Weetbix slice I have created two versions without cocoa in the base: Lemon Weetbix slice and Passionfruit Weetbix slice. They are both proving to be very popular with my readers giving me great feedback. My Weetbix chocolate chip cookies are super delicious too!
If you don't have any Weetbix on hand you could try this similar recipe using cornflakes from my fellow food blogger friend Anna at Just a mum for Chocolate cornflake slice.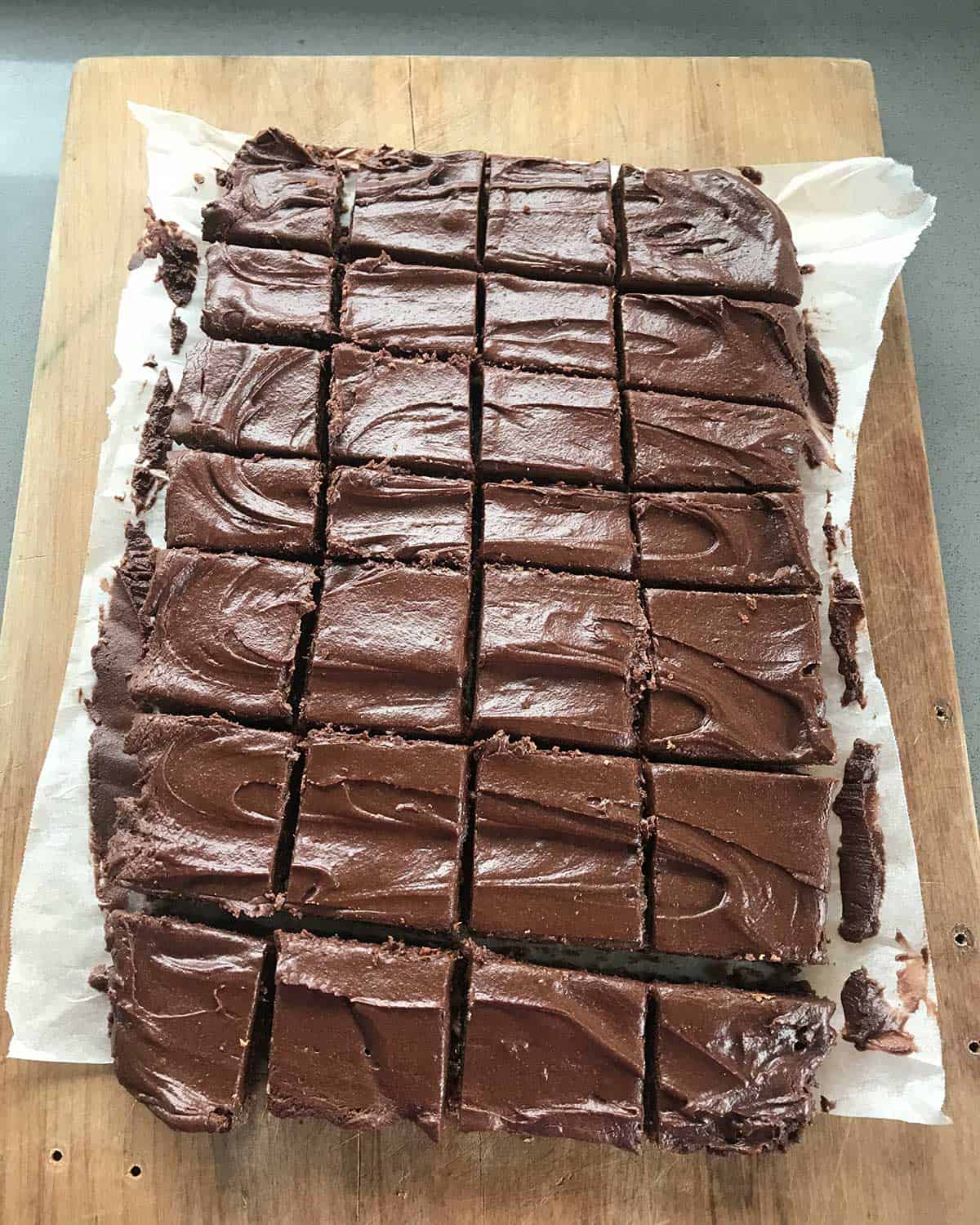 Recipe FAQs:
Can I overcook Weetbix slice?
Yes. If you overcook Chocolate Weetbix Slice it can go quite hard. I recommend baking this for 14-20 minutes however, all ovens are different. If you know your oven 'runs hot' test it at the 15 minute mark. It should be soft when you bring it out of the oven and it will firm up as it cool down.
What other ingredients can be added to Weetbix slice?
You can try adding dried apricots or cranberries to the base. Walnuts can be added on top of the icing.
Can Weetbix slice be made gluten free?
Yes! Gluten free Weetbix are available in most supermarkets in New Zealand and Australia. Replace the same amount of weetbix and flour for gluten free alternatives.
What size tin works well for Weetbix slice?
My slice tin is approximately 29 x 19cm. Anything close to this will work. The smaller your tin, the thicker your base will be and the longer it might take to cook.
Can I leave out the coconut from Weetbix slice?
Yes, Weetbix slice will still work well without coconut, simply add 1 extra Weetbix and ½ a cup of additional flour.
Storage:
Chocolate Weetbix slice will keep well in an airtight container in the pantry, or fridge for up to one week.
Did you know you can freeze slices? A great option if you don't want to eat the whole slice in one go! Simply wrap the slice pieces in cling film and store in an airtight container in the fridge for up to three months.
Top tips:
If you chose to freeze pieces of this slice, they are perfect for adding to school lunches. Simply place a frozen piece of slice in a lunchbox in the morning, and it will have defrosted by morning tea time. In addition, it will help to keep the rest of the lunch cool!
Related Recipes:
---
---
Made this recipe?
Please click on the stars below to rate it!
---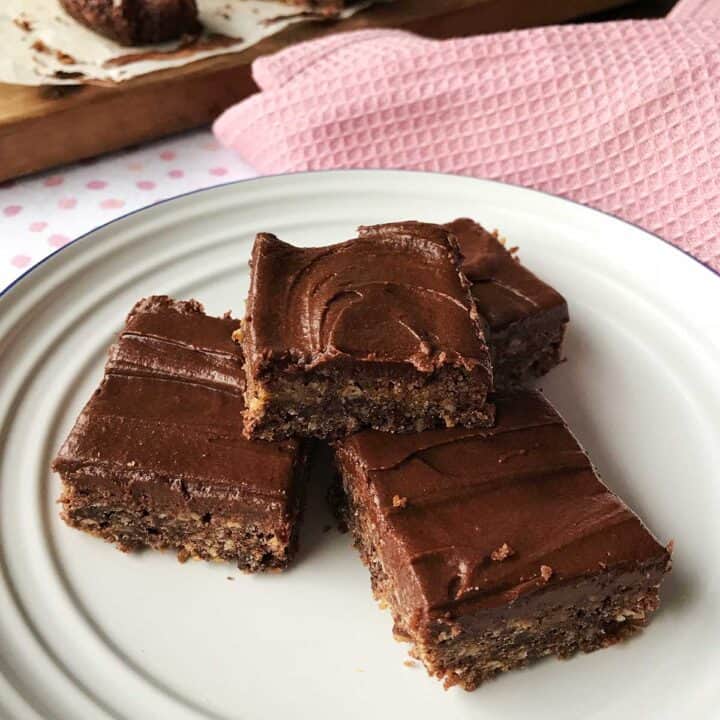 Chocolate Weetbix Slice
A delicious baked slice with chocolate icing.
Ingredients
BASE
185g butter
1 cup sugar
2 Tbsp cocoa
3 Weetbix, crushed
1 cup plain flour
1 cup coconut
1 tsp baking powder
ICING
2 cups icing sugar
3 Tbsp cocoa
50g butter (softened)
2-3 Tbsp boiling water
Instructions
Preheat oven to fanbake 180°C.
In a large saucepan over low heat melt together butter, sugar and cocoa.
Take off the heat then add Weetbix, flour, coconut and baking powder. Mix together.
Pour into a lined tray and press down firmly. Bake for 15 to 20 mins until the slice is cooked but feels soft to the touch in the centre.
Icing: Mix together icing sugar, cocoa and butter. Add boiling water as needed to loosen mixture and whisk out any lumps.
Ice the slice while it is still warm then chop up once cooled and icing has set.
Notes
You can sprinkle coconut over the top for added decoration and flavour.
Nutrition Information:
Yield:

28
Serving Size:

1
Amount Per Serving:
Calories:

158
Total Fat:

8g
Saturated Fat:

5g
Trans Fat:

0g
Unsaturated Fat:

2g
Cholesterol:

18mg
Sodium:

85mg
Carbohydrates:

22g
Fiber:

1g
Sugar:

16g
Protein:

1g
Nutritional values are approximate. Please use your own calculations if you require a special diet.
Thank you for checking out this recipe. I hope you enjoy making and eating it! If you have any questions, queries or feedback, please feel free to leave a comment below.
If you don't already follow me, head over to my Instagram or Facebook pages to keep up to date with all my new recipes.
Vanya