This recipe for whole roasted pumpkin soup is so easy to prepare and is packed full of flavour

I've teamed up with Countdown to share my Roasted Pumpkin Soup recipe to help warm you up during the cold winter's nights. There's a wide range of winter fruit and vegetables available at the moment at Countdown and so good to know that I am feeding my family the freshest produce. In this recipe I have used a butterkin which is a cross between a butternut and a pumpkin.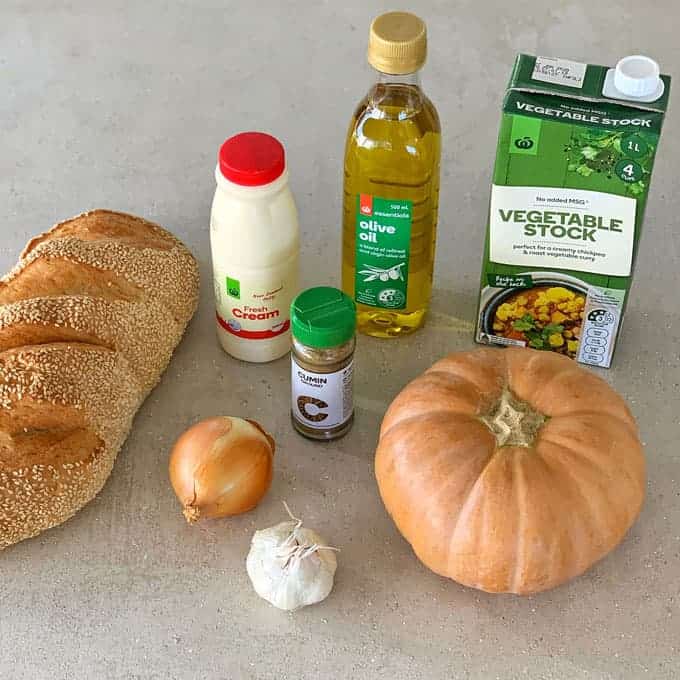 With so many bugs going around in winter it is important to boost your immune system by eating lots of veggies, pumpkin is perfect because it is packed with nutrients. If you need more inspiration this winter, Countdown also has loads of recipes on their Foodhub.
The great thing about this roasted pumpkin soup is that there is no chopping the pumpkin at the start. You simply bake the pumpkin whole in the oven and then peel off the skin. The result is delicious and tender roasted pumpkin flesh ready to make into soup.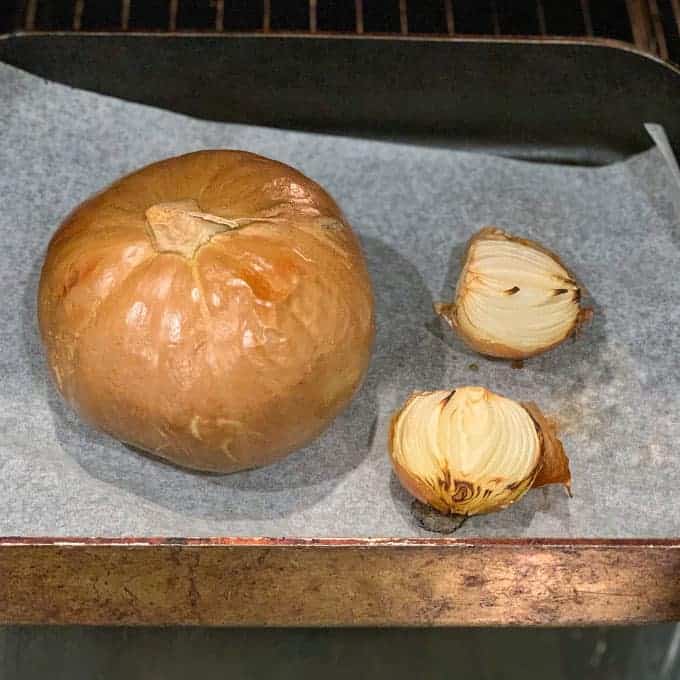 The onions also have a great flavour after roasting them at the same time as the pumpkin. Simply cut the onion in half and drizzle with some olive oil then roast until tender. I like to roast them with the skin on, then peel it off at the end. Once you have peeled the skin off the pumpkin cut it in to large pieces.
To make the soup
Sauté crushed garlic in some olive oil, stir in the chopped roasted onion and some ground cumin. The cumin gives the soup a lovely depth of flavour that goes so well with the pumpkin. Add the pumpkin to the pot and then pour in the vegetable stock, bring the pot to a simmer and cook for 5-10 minutes. Now it is time to use your stick blender to puree the soup. Before serving season to taste with salt and pepper.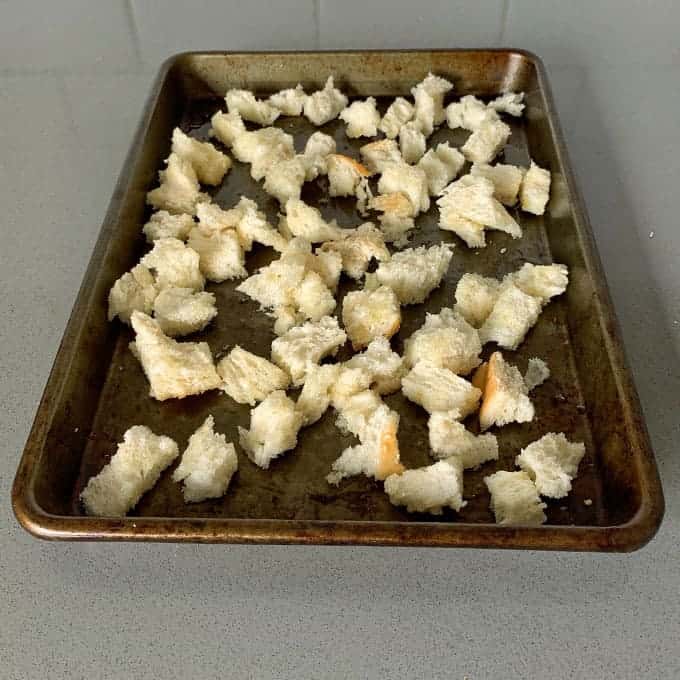 I like to use a crusty white loaf of bread to make homemade croutons which go so well with this soup. Just rip the bread into bite sized chunks and drizzle with olive oil, then bake in the oven until golden. Serve the roasted pumpkin soup with a drizzle of cream, grated parmesan, homemade croutons and fresh Italian parsley.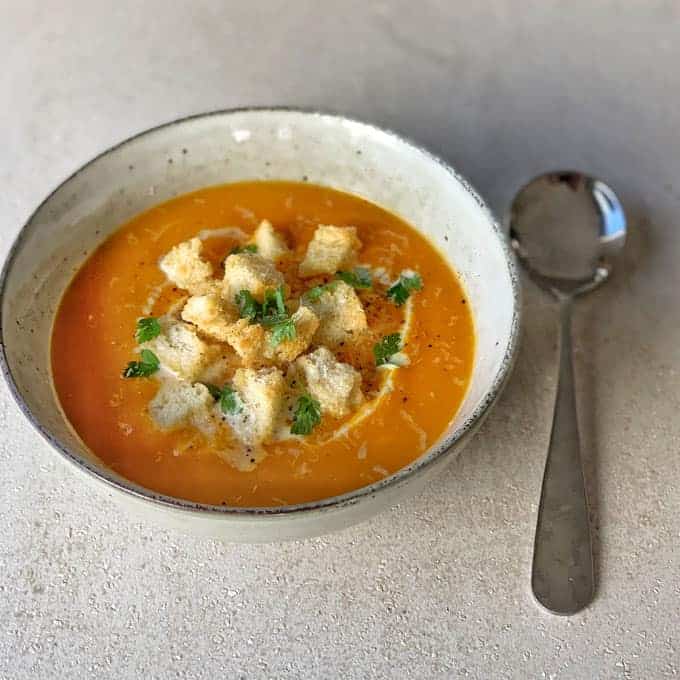 More easy dinner recipes to try:
Made this? Tag me on Instagram @vj_cooks and hashtag it #vjcooks
Check out the easy recipe below:
Print
Roasted pumpkin soup
Yield 4-6 serves
Ingredients
1 pumpkin, butternut or I used a 1.1kg butterkin
1 onion
1 Tbsp olive oil
4 cloves garlic, crushed
1 tsp ground cumin
750ml vegetable stock 
Croutons 
1/2 loaf of crusty white bread
1 Tbsp olive oil
To serve
2 Tbsp parmesan, freshly grated
4 tsp cream (optional)  
1 Tbsp fresh Italian parsley 
Instructions
Pumpkin and onion prep 
Preheat oven to 170.C fanbake. 
Place the whole pumpkin on a lined oven tray, cut the ends off the onion and slice in half. Drizzle onion with olive oil and place on the tray skin side down. 
Bake 1 hr 40 mins or up to 2 hours depending on the size of your pumpkin. The pumpkin is cooked when the skin has browned and it is easily pierced with a fork. 
Once the pumpkin has cooled then peel away the skin, cut in half and scoop out the seeds. Chop into large pieces or mash it. Now you can store it for later or use it in your soup. 
Homemade croutons
Rip the bread into bite sized chunks and spread out on an oven tray. Drizzle with olive oil, then bake in the oven until golden, approx 15 minutes. 
To make the soup
Heat 1 Tbsp of olive oil in a large pot, add crushed garlic and sauté for a minute.
Peel the skin off the roasted onion and roughly chop, add to pot along with ground cumin. Stir together with oil and garlic.
Add chopped roasted pumpkin to pot then pour in vegetable stock.
Bring the pot to a simmer and cook for 5-10 minutes.
Turn off the heat and use stick blender to puree the soup. Season to taste with salt and pepper. 
Serve with a drizzle of cream, freshly grated parmesan cheese, Italian parsley and homemade croutons.
Notes
If you don't have a stick blender you can roughly mash with a potato masher or wait for the soup to cool and put it through a blender to get it super smooth.
Courses Dinner
Thank you so much for checking out my recipe. Follow along at my Facebook page.
DISCLOSURE: THIS RECIPE WAS DEVELOPED WHILE PARTNERING WITH COUNTDOWN SUPERMARKETS. THE CONTENT AND OPINIONS ARE MY OWN.