Chocolate and banana self saucing pudding is the perfect winter dessert, your family will love this easy recipe.

I have to give credit to my husband Mike for this recipe, it was his idea to add banana to this easy chocolate pudding. Now chocolate and banana self saucing pudding is the favourite dessert in our house. Such an indulgent treat to have after dinner.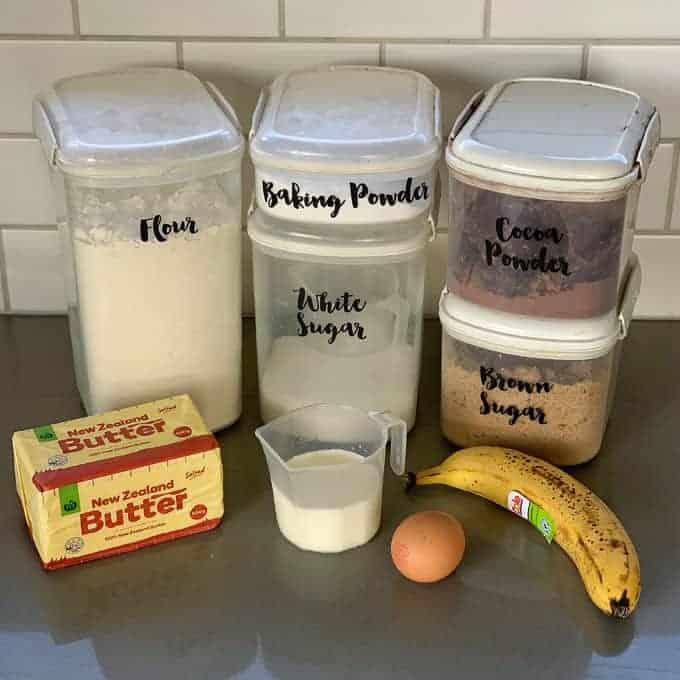 To make this recipe simply sift together the flour, baking powder, cocoa and sugar. I like to add a pinch of salt to balance the flavours. Make a well in the centre of the dry ingredients then pour in milk, melted butter and crack in the egg. Mash the banana well then add that to the bowl. Stir everything together to create a cake like batter.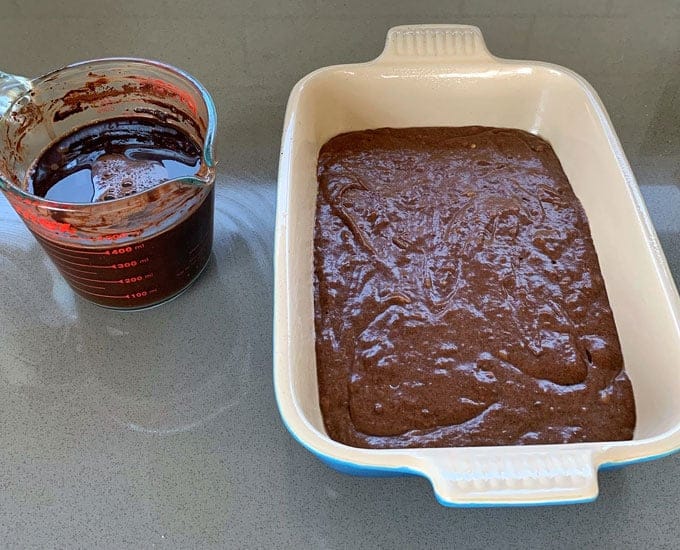 Pour the batter into a greased oven proof dish and spread to the edges. Now it is time to make the sauce. Simply mix together boiling water, brown sugar and cocoa. Pour the liquid over the batter so there is a liquid layer over the top.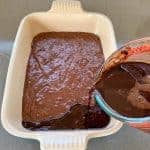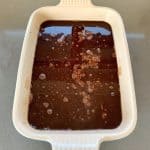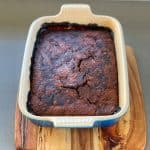 It's amazing how the liquid on top turns in to a smooth chocolate sauce underneath the pudding once it is baked. Bake for 30-35 minutes or until the top springs back once lightly touched. All ovens are different and you don't want over cook the pudding or there will not be any sauce left, so make sure you check after the 25 minute mark.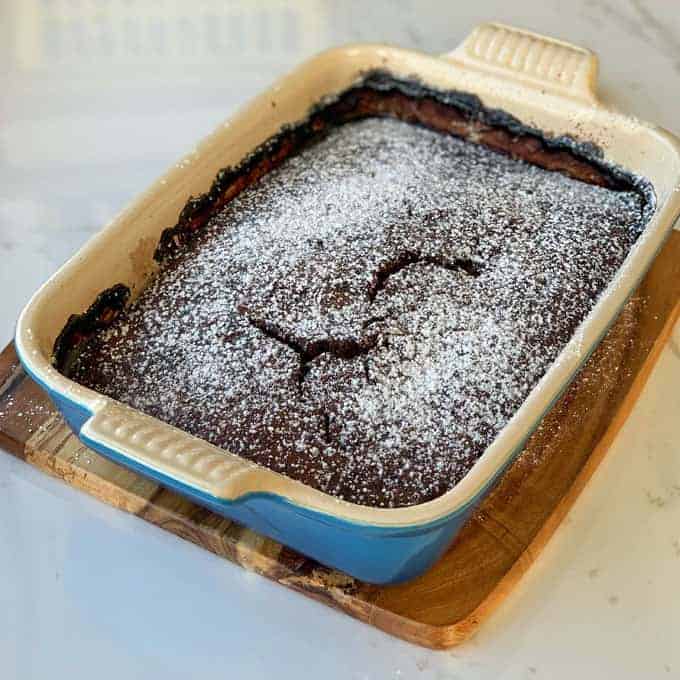 I like to serve my chocolate and banana self saucing pudding with vanilla ice cream. You could also serve it with pouring cream or hot custard. The boys in my family love custard.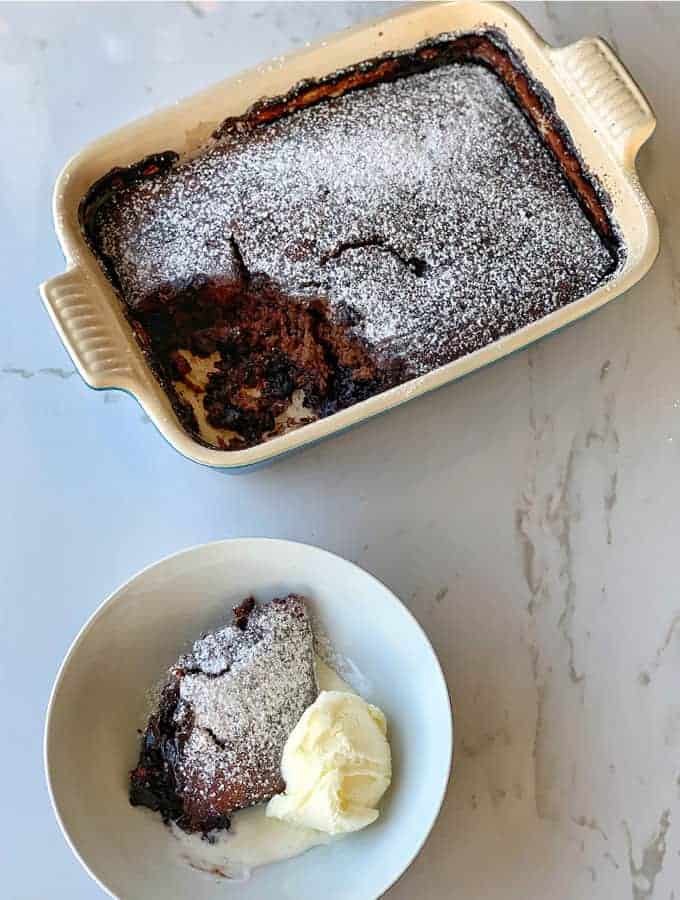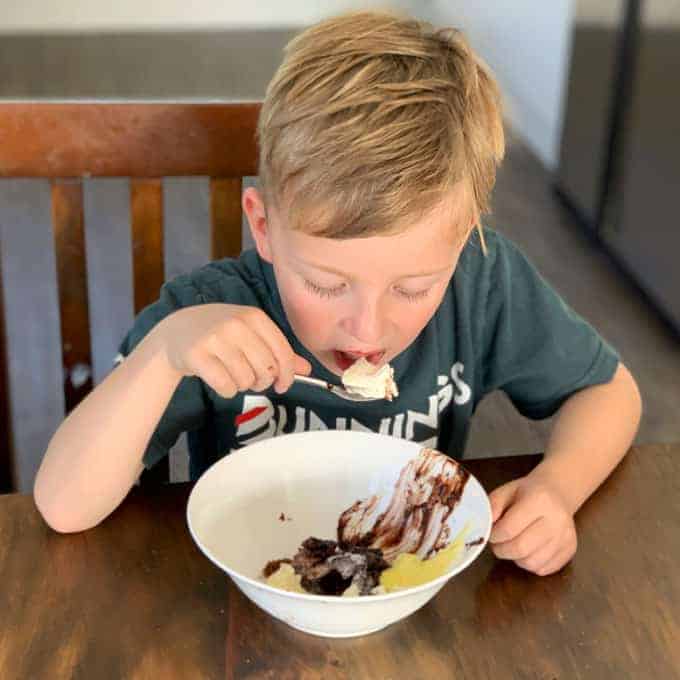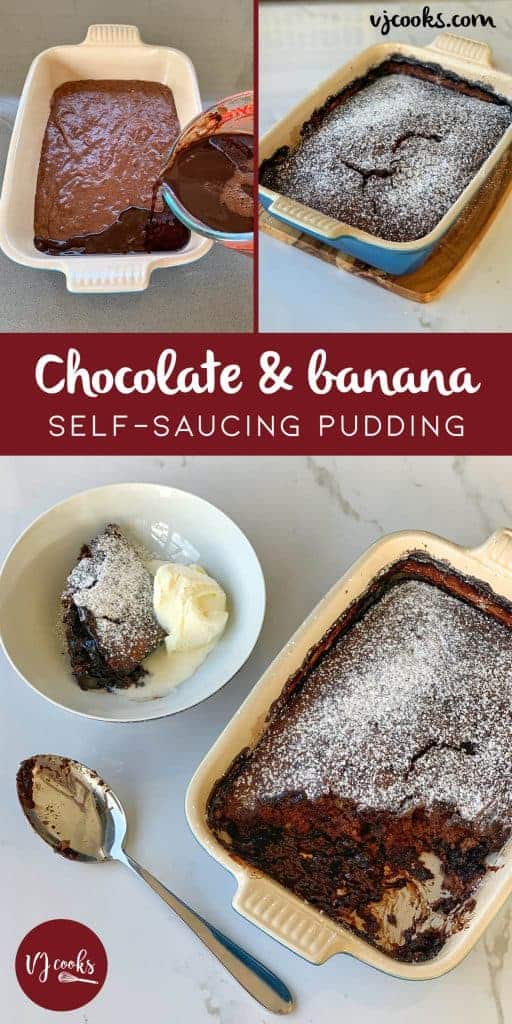 More easy dessert recipes to try:
Made this? Tag me on Instagram @vj_cooks and hashtag it #vjcooks
Check out the easy recipe below:
Print
Chocolate and banana self saucing pudding
Yield 6 serves
This delicious dessert was created by my husband Mike, it is his favourite combo of chocolate and banana.
Ingredients
1 cup plain flour
1 tsp baking powder
Pinch of salt
3/4 cup sugar
2 Tbsp cocoa
1/2 cup milk
1 egg
50g butter, melted
1 banana, mashed 
Sauce 
1.5 cups boiling water
1/2 cup brown sugar 
1/2 cup cocoa
Instructions
Preheat the oven to 180.C fanbake. Grease an ovenproof dish.
Sift together flour, baking powder, salt, sugar and cocoa.
Make a well in the centre and add the milk, egg, melted butter and mashed banana. 
Fold everything together then pour into the dish, spread to the edges.
Mix the boiling water with brown sugar and cocoa, pour over the batter in the dish. 
Bake for 30 minutes or until the pudding springs back when lightly touched. 
Serve immediately with ice cream, cream or custard. 
Notes
This recipe can be made without the banana if you want a plain chocolate version. 
Courses Dessert
Thank you so much for checking out my recipe. Follow along at my Facebook page.