This creamy mushroom pasta is packed full of flavour, it only has a few ingredients and can be made in under 15 minutes.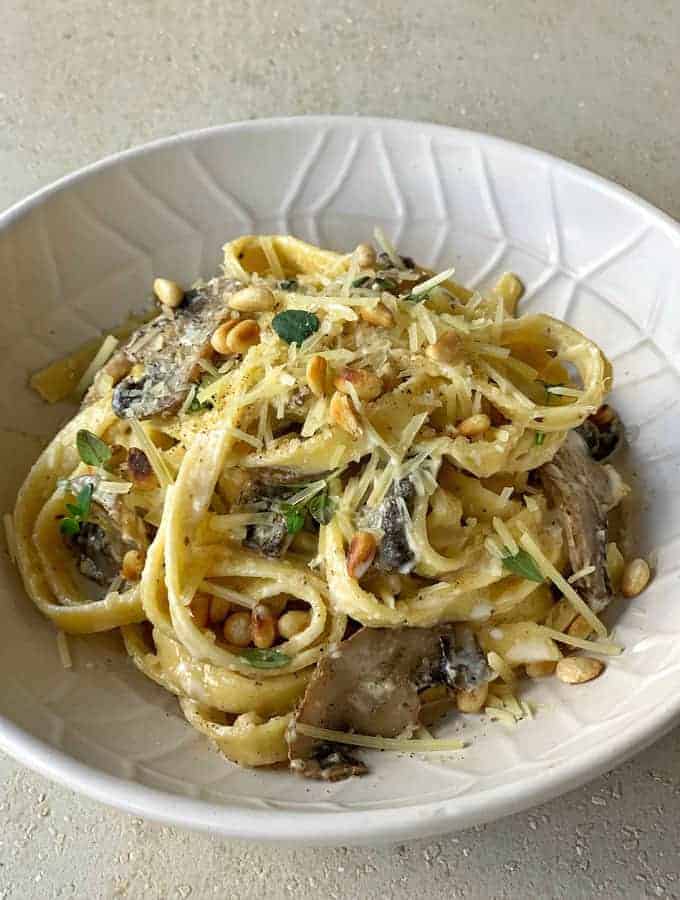 I love having fresh pasta in my fridge so that I can whip up a quick meal any time. My favourite is the Countdown's own brand fresh pasta, they have such a great range of shapes and flavours. If you have followed me for a while you will notice that I am always using Countdown's own brand range. I find the ingredients to be just as good as bigger brands but a lot cheaper, which saves me money at my weekly supermarket shop.
Other reasons I opt to use their range is because they've also reformulated a lot of their products to remove a significant amount of salt and sugar, artificial colours, and MSG. They source in a sustainable way, don't use palm oil and products are SPCA approved, they're also in in the process of changing their packaging to be more sustainable. They've definitely got my vote!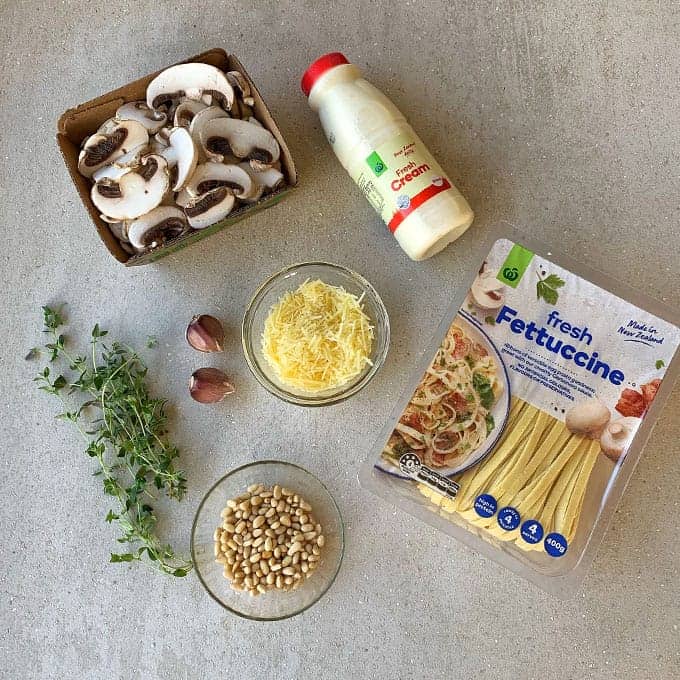 This mushroom pasta is so simple to make, first of all you fry the mushrooms in some olive oil until they are cooked through. Then add crushed garlic and splash of white wine. This is optional, if you don't have any wine on hand leave it out, I just like the flavour it creates in the sauce. After the garlic and wine, add some thyme and fresh cream, keep cooking until it starts to bubble then add some grated parmesan cheese. This creates a delicious creamy mushroom sauce ready for the cooked fettuccine.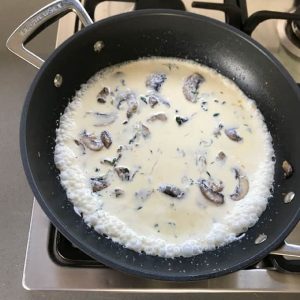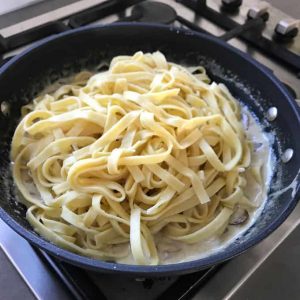 Cook the pasta according to packet instructions, drain and then add to the sauce. Stir the mushroom sauce through the fettuccine until it is well coated. I like to serve my mushroom pasta piping hot with extra parmesan cheese and toasted pinenuts, which give the meal a lovely nutty taste.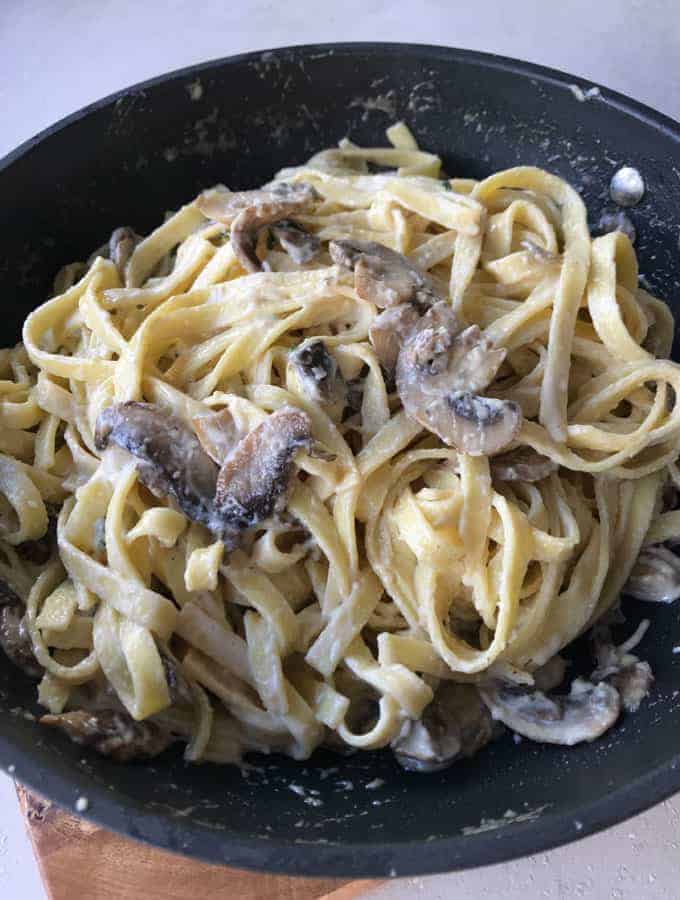 I love how fast and convenient this quick mushroom pasta recipe is, if you don't have thyme you could use parsley or sage to add a nice herby flavour. This pasta will feed a family of four and can be made in under 15 minutes. The price of the meal is under $20, that's less than $5 per portion.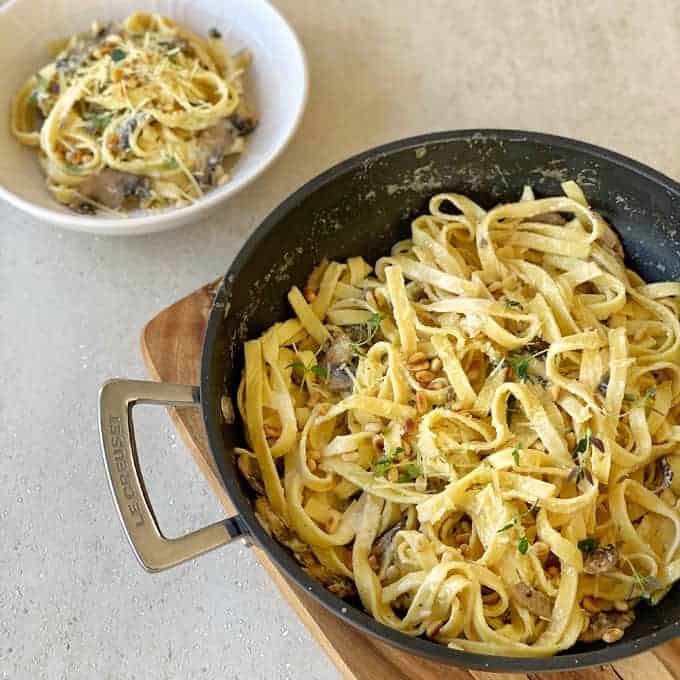 Thanks so much to Countdown for partnering with me to create this delicious recipe.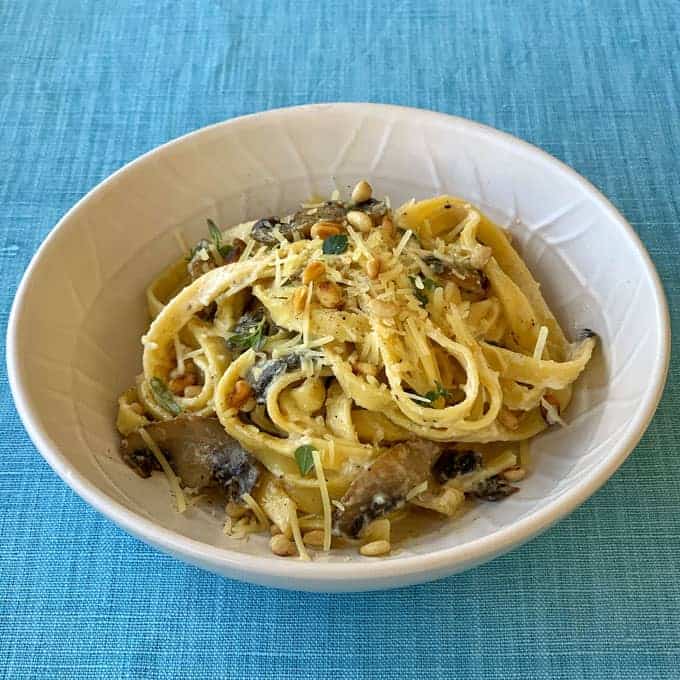 More easy pasta recipes to try:
Made this? Tag me on Instagram @vj_cooks and hashtag it #vjcooks
Check out the easy recipe below: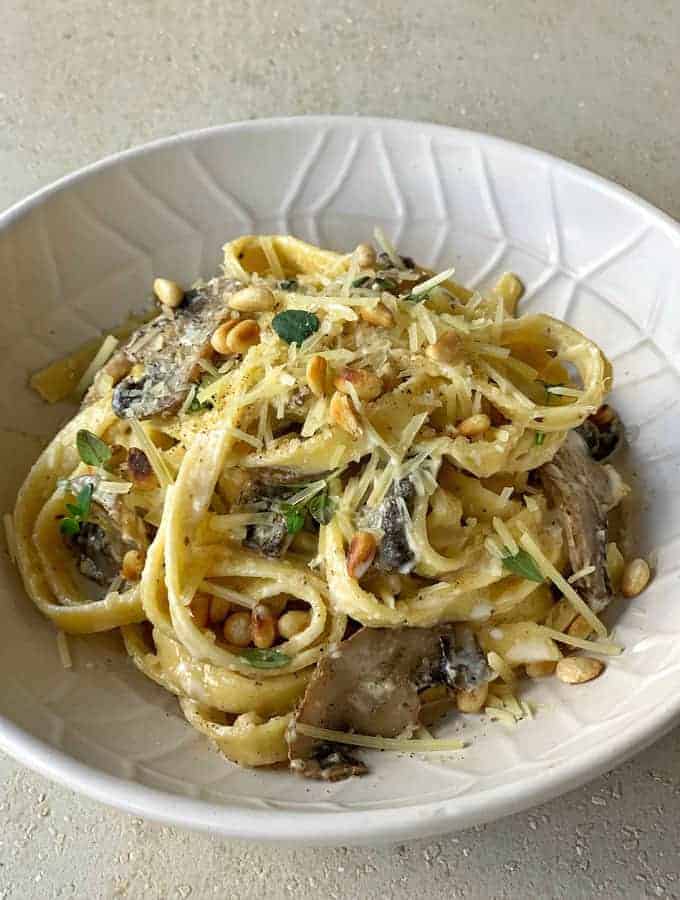 Print
Creamy mushroom pasta
Yield 4 serves
Ingredients
400g Countdown fettuccine (14oz)
1 Tbsp Countdown olive oil
250g mushrooms, sliced
3 cloves garlic, crushed
1/4 cup white wine, optional
1 tablespoon fresh thyme
1 cup Countdown cream
40g grated parmesan
25g pinenuts, toasted
Instructions
Bring a large pot of salted water to the boil and add the fettuccine. Cook according to packet instructions. Drain and set aside.
Heat a large frypan on the stovetop and pour in olive oil. Add the sliced mushrooms and stir until they are cooked through.
Stir in the crushed garlic and cook for a minute, pour in the white wine and stir through the mushrooms.
Add the thyme then pour in the cream, heat until bubbling and add the grated parmesan cheese. Stir again to combine.
Turn off the heat then drop in the cooked fettuccine. Use tongs to cover all of the pasta in sauce. Season to taste with salt and pepper. 
Serve in bowls with plenty of freshly grated parmesan and garnish with fresh thyme and toasted pinenuts. 
Notes
You may need to add some of the pasta cooking water to loosen the sauce after you add the fettuccine. 
Courses Dinner
Thank you so much for checking out my recipe. Follow along at my Facebook page.