This courgette and ricotta cannelloni is the perfect vegetarian recipe to use up all of those courgettes from your garden.
I first made this courgette and ricotta cannelloni about five years ago and I thought it was it was about time that I made it again. It is such a great way to use up courgettes especially at this time of year (February/March) when they grow so fast in New Zealand gardens. The taste of the fried courgette goes so well with the subtle flavours of the ricotta and lemon.
Some people call them zucchini but they are mostly called courgettes in New Zealand and Australia. You could also make this recipe if you are growing marrow.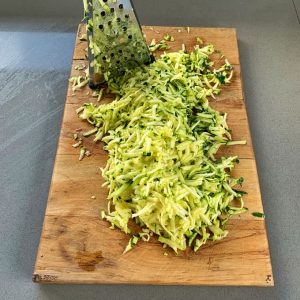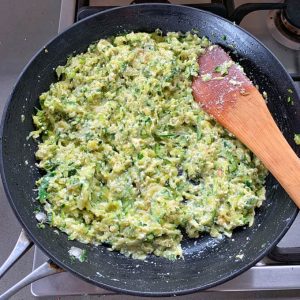 To make this recipe, first of all grate the courgette and squeeze out all of the water. Sauté the onion until soft then add the courgettes, once they have cooked for a few minutes add the crushed garlic and lemon zest then stir it all together. Add the ricotta and lemon juice to the fry pan then season generously with salt and pepper.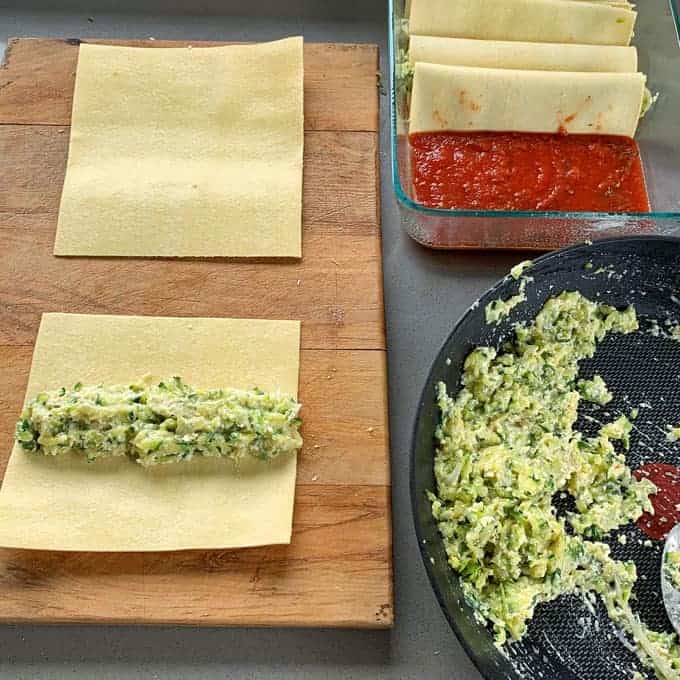 You can use traditional dried cannelloni in this recipe but I find them a little bit time consuming to fill up so I decided to use fresh lasagne sheets. Place the delicious courgette and ricotta mixture at one end of the the lasagne sheet and roll it up. Keep doing this until you have used up all of the mixture, line them all up side-by-side in a oven proof dish. Finish it off with crushed tomatoes, Italian herbs and top with lots of grated cheese.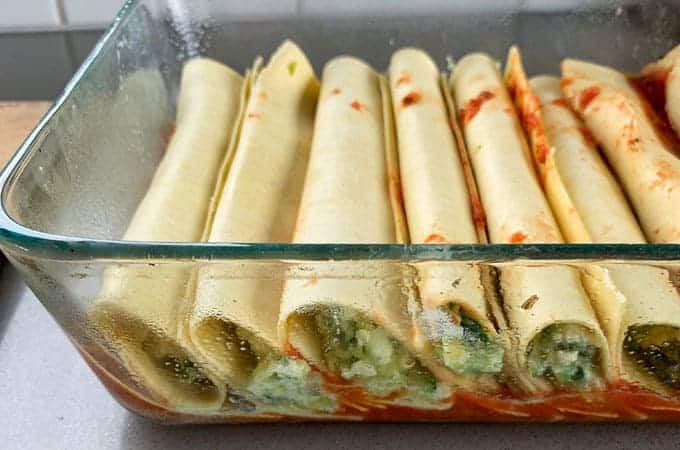 Bake your cannelloni in the oven until the cheese is golden and bubbling and the pasta is cooked through. I like serve my cannelloni hot with crusty garlic bread and a fresh green salad.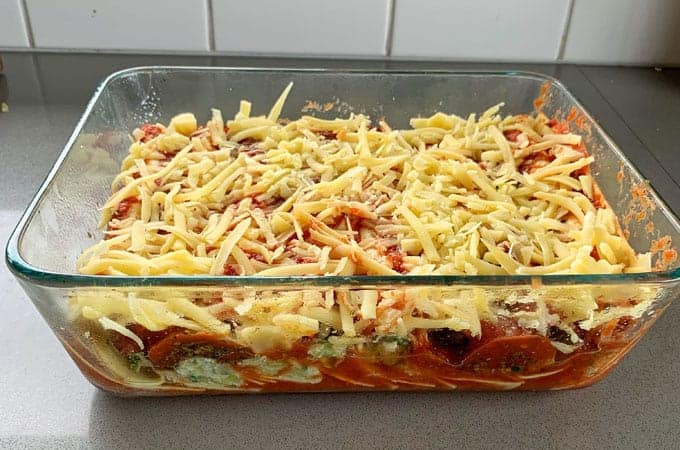 This recipe really is a great way to use up courgettes the flavours with the ricotta and lemon go so nicely together, I hope you love this recipe as much as I do.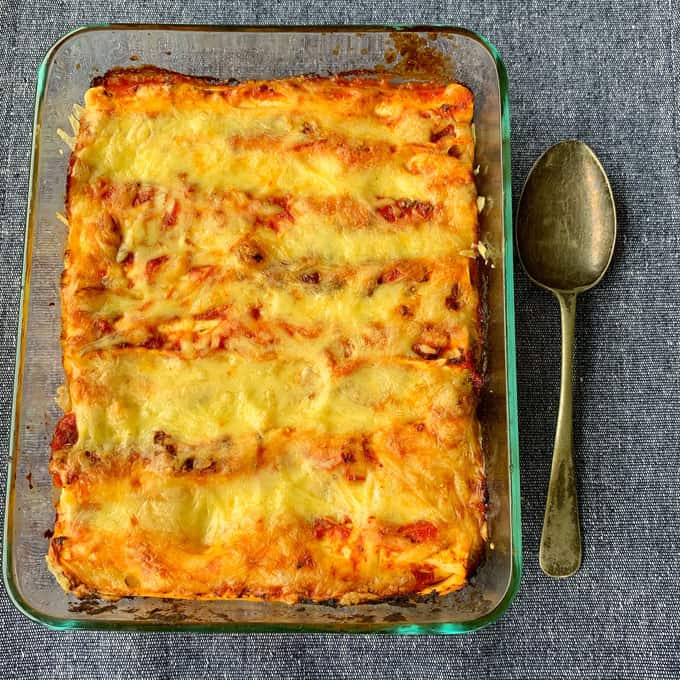 More easy pasta recipes to try: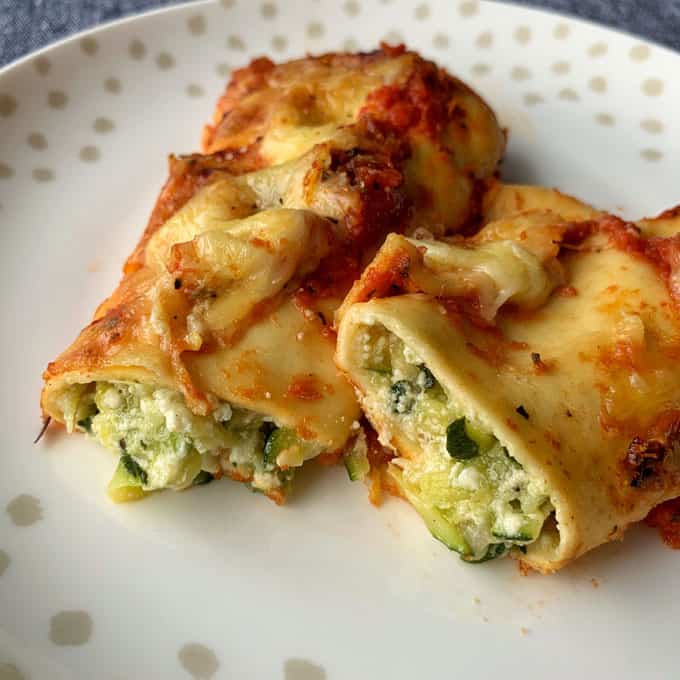 Made this? Tag me on Instagram @vj_cooks and hashtag it #vjcooks
Check out the easy recipe below:
Print
Courgette and ricotta cannelloni
Yield 4 serves
Ingredients
1 Tbsp olive oil
1 onion, sliced  
750g courgettes, grated 
3 garlic cloves, crushed
1 lemon, zest and juice
200g ricotta 
1 can of crushed tomatoes 
1 Tbsp Italian herbs 
400g fresh lasagne sheets
1 cup grated cheese
Instructions
Preheat oven to 180.C Fanbake.
Heat olive oil in a large frypan and saute onion until soft.
Grate the courgettes then squeeze out the excess liquid in a clean tea towel.
Fry the courgettes turning them frequently, for about 5 minutes. Add the crushed garlic and lemon zest then fry for a few more minutes.
Add the ricotta and lemon juice then stir it all together. Season generously to taste with plenty of salt and pepper. 
Cut the fresh lasagne sheets into 8 even pieces then divide the ricotta mix between them and roll up lengthways into cannelloni.
In an oven proof dish pour in half of the crushed tomatoes and sprinkle over half of the Italian herbs, stir both together.
Sit the cannelloni on top of the sauce, seam-side down.
Pour over the rest of the tomatoes and Italian herbs then spread to cover all of the cannelloni.
Scatter over the grated cheese then bake for 30 minutes until golden and bubbling.  
Serve with crusty garlic bread and a fresh green salad. 
Courses Dinner
Thank you so much for checking out my recipe. Follow along at my Facebook page.