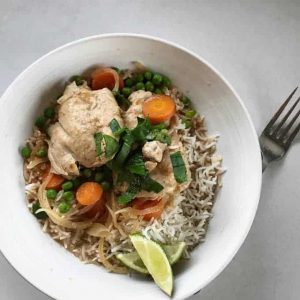 Slow cooker Thai chicken curry
The perfect Thai chicken curry made in the slow cooker. 
Ingredients
1 onion, thinly sliced
2 carrots, chopped
3 cloves garlic, crushed
1 can coconut milk
2 Tbsp fish sauce
2-3 Tbsp Thai curry paste*
1 tsp ground ginger
1 kg skinless chicken thighs
1 lime, juiced
1 cup of peas, thawed
¼ cup fresh basil, sliced
Instructions
Add onion, carrots, garlic, coconut milk, fish sauce, curry paste and ginger to the slow cooker, then stir to combine.

 

Cut chicken thighs in half and place into the sauce. Set slow cooker onto low for 8 hours or high for 4 hours. Stir once during cooking.

 

30 minutes before end time add lime and peas then let them cook through.

 

Serve on top of rice and scatter over basil leaves.

 
Notes
I used 2 Tbsp of mild massaman curry paste but any Thai curry paste would work: panang, green, red etc. Add 2-3 Tbsp depending on how hot you like it. You can also add chilli flakes at the start if you want the curry hotter. 
Courses Dinner
Cuisine New Zealand
Recipe by VJ Cooks at https://vjcooks.com/thai-chicken-curry/