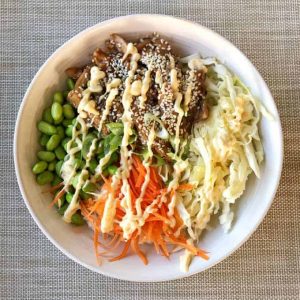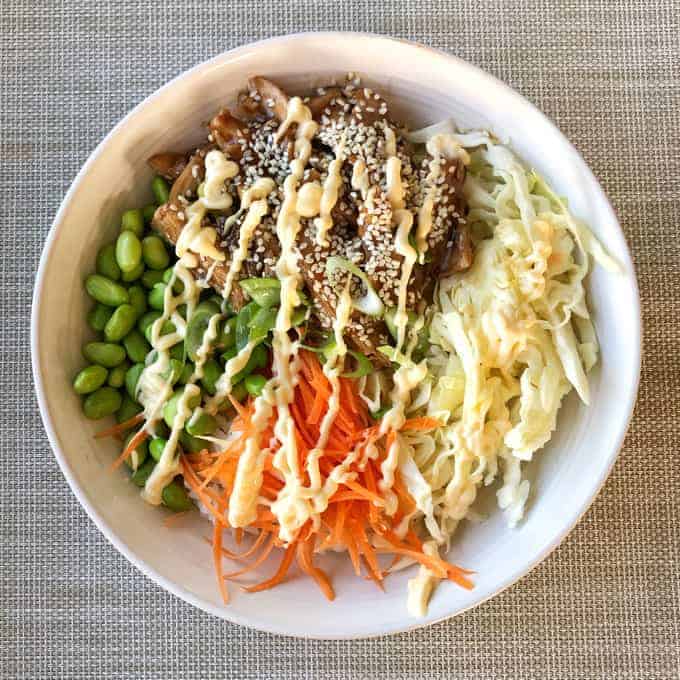 Teriyaki chicken bowls
Yield 6 serves
This recipe for teriyaki chicken bowls is so easy, the chicken bakes in the sauce to make it super tasty and tender. It makes a big batch so you may want to halve the recipe. 
Ingredients
1 kg boneless skinless chicken thighs 
Teriyaki sauce
1/2 cup soy sauce
2 Tbsp apple cider vinegar (but other vinegar would work)
1 tsp sesame oil
2 cloves garlic, crushed
2 Tbsp brown sugar
Cornflour mix
3 tsp cornflour 
1 Tbsp boiling water
To serve
3 cups cooked medium grain rice
2 carrots, shredded or grated
2 cups cabbage, sliced
1 cup cooked edamame beans
1 spring onion, sliced 
Sesame seeds
Kewpie Japanese mayo
Instructions
Preheat oven to 200.C fanbake. 
Combine the teriyaki sauce ingredients. 
Place chicken thighs in an oven proof dish and pour over sauce.
Bake for 30 minutes then turn over chicken, add the cornflour mix to the sauce.
Turn the oven onto fan grill and place the dish closer to the grill.
Cook for another 15 minutes until chicken is golden and cooked through. 
Remove the chicken and slice into strips, the sauce should have thickened up, if it hasn't place the sauce in the dish back under the grill. 
Serve on top of cooked rice, add the carrots, cabbage, edamame beans, spring onion and then the chicken. Spoon over extra teriyaki sauce and scatter sesame seeds over chicken. 
Add as much kewpie mayo as desired then serve immediately. 
Courses Dinner
Cuisine Japanese
Recipe by VJ Cooks at https://vjcooks.com/teriyaki-chicken-bowls/