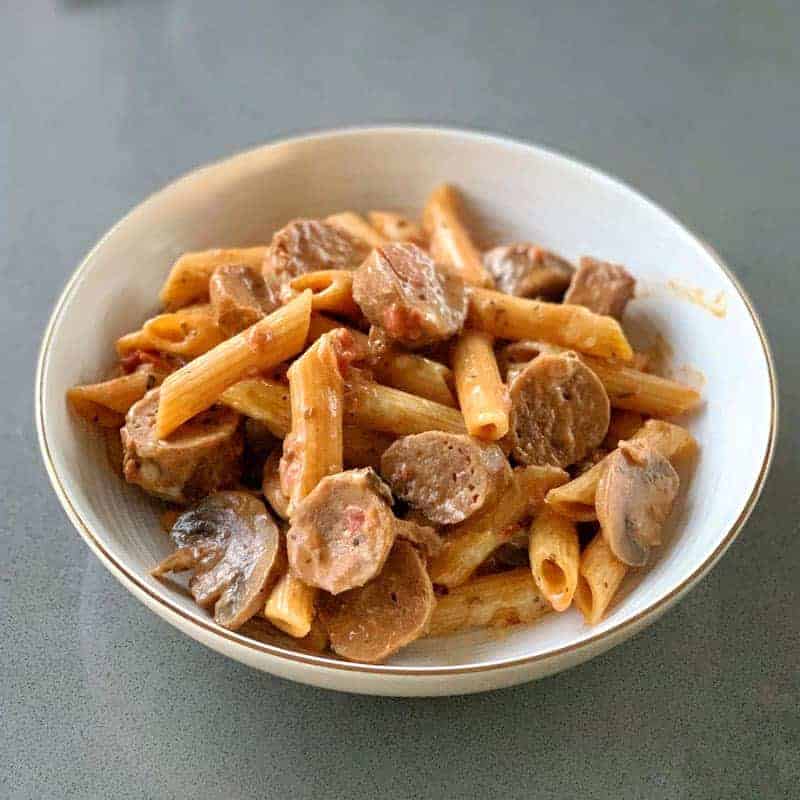 Slow cooker sausage pasta
Yield 6 serves
This slow cooker sausage pasta is so delicious! It is a great budget friendly recipe that will feed a crowd or make enough to freeze for later. 
Ingredients
Sauce
1 onion sliced
1 can crushed tomatoes
1 cup beef stock (I used 1 cup boiling water & an oxo cube)
1 Tbsp tomato paste
1 Tbsp Italian herbs
1 tsp paprika 
1 tsp ground cumin
200g mushrooms, sliced
The rest
750g sausages (8-10)
250ml tub of Philadelphia cream for cooking or cream cheese
500g penne pasta, cooked
1/2 cup of grated cheese
Instructions
Add all of the sauce ingredients to the slow cooker and mix together.
Add sausages and coat in the sauce.
Cook in the slow cooker for 3+ hours on high or 6+ hours on low.
Cook pasta according to packet instructions and drain then set aside. 
Remove sausages from slow cooker and slice into 1cm pieces.
Stir the cream cheese through the sauce.
Add the sausages back to the sauce and stir in the cooked penne pasta. Season to taste with salt and pepper.
Serve with plenty of grated cheese.
Extra step if you want to grill the cheese
You can scatter the cheese over the pasta, remove the ceramic dish from slow cooker and grill in the oven on 160.C until golden and bubbling. Please check that your slow cooker bowl can withstand the heat of the oven before doing this step.
Notes
Pasta bake
You can turn this into a pasta bake by adding the mixture to an oven proof dish after step 6, then scatter over grated cheese and baking until golden. This is also a great way to freeze for later since it makes so much. 
Courses Dinner
Recipe by VJ Cooks at https://vjcooks.com/slowcooker-sausage-pasta/