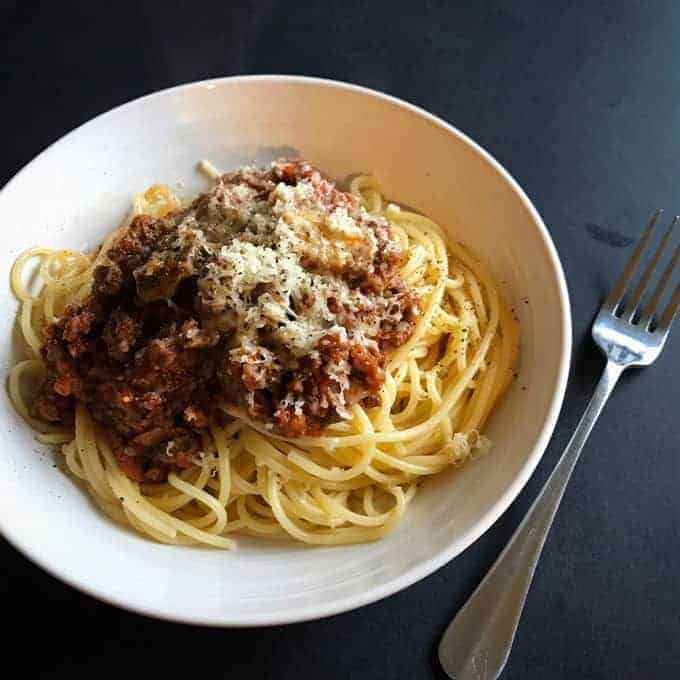 Slow cooker spaghetti bolognese
Yield 12 serves
Ingredients
800g beef mince
1 onion, grated or finely diced 
70g baby spinach (optional)
2 cans of tomatoes
2 carrots, grated
1 cup beef stock, I use an oxo cube & boiling water
3 cloves garlic, grated
2 Tbsp tomato paste
250g mushrooms, sliced or quartered
2 tsp Italian herbs
1/2 tsp sugar 
Salt and pepper to season
Instructions
Brown mince and onion in a large frypan then add to the slow cooker.
Blend spinach with one can of tomatoes in a blender until finely chopped. (optional veg hiding trick)
Add carrots, garlic, mushrooms, Italian herbs, sugar, tomato paste, beef stock, canned tomatoes and spinach mix to the slow cooker.
Season well with salt and pepper then stir everything together, turn the slow cooker on to high for 4 hours or low for 6+ hours.
Stir everything together at the end and check the seasoning, add more if needed.
This mince is great for spaghetti bolognese, lasagne and other Italian style mince dishes.
Courses Dinner
Recipe by VJ Cooks at https://vjcooks.com/slow-cooker-bolognese/