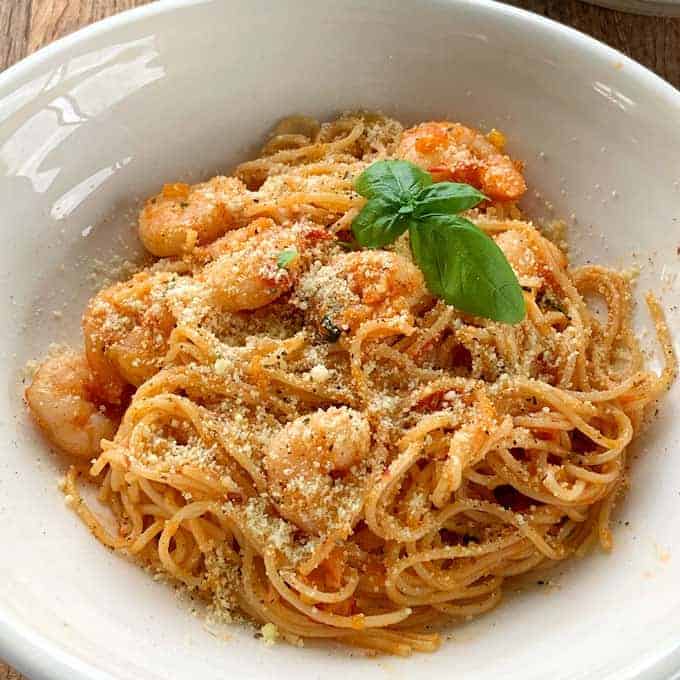 Roasted prawn and tomato pasta
Yield 4 serves
Ingredients
500g tomatoes, halved
4 cloves of garlic, halved 
Shake of chilli flakes (optional)
2 Tbsp of olive oil
1 cup fresh basil
400g angel hair pasta 
400g raw prawns 
Grated parmesan to serve
Instructions
Preheat oven to 200C fanbake. 
Add tomatoes, garlic, chilli flakes (if using) and olive oil to a lined baking tray, season well with salt and pepper then bake for 30 minutes. 
Blitz the tomatoes, garlic and juices in a blender with the fresh basil to make a beautiful roasted tomato sauce.
Cook pasta according to packet instructions until al dente. 
Pan fry prawns in a large pan for a few minutes until orange and cooked through. 
Add cooked pasta and the roasted tomato sauce to the pan and stir it all together. Season to taste with salt and pepper.  
Serve immediatly with grated parmesan, fresh basil and a drizzle of olive oil. 
Courses Dinner
Recipe by VJ Cooks at https://vjcooks.com/roasted-tomato-prawn-pasta/