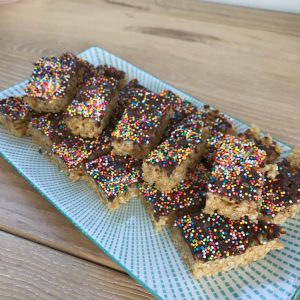 Rice bubble slice
Yield 24 small slices
Ingredients
½ cup brown sugar
120g butter, melted 
1 Tbsp honey
4 cups of rice bubbles
Chocolate topping (optional)
200g chocolate, melted
1 Tbsp vegetable oil 
2 Tbsp sprinkles
Instructions
Add brown sugar, butter and honey to a large saucepan.
Melt on the stovetop until bubbling.
Remove from heat, add rice bubbles and mix well.
Pour into lined tray and spread out.
Mix melted chocolate with the oil and pour over the slice. Spread to the edges and dust over sprinkles.
Chill in the fridge for 1 hour or until set - then cut into slices. 
Notes
Store in an airtight container in the fridge for up to a week. 
You can use white, milk or dark chocolate for the topping. 
Courses Baking
Cuisine New Zealand
Recipe by VJ Cooks at https://vjcooks.com/rice-bubble-slice/