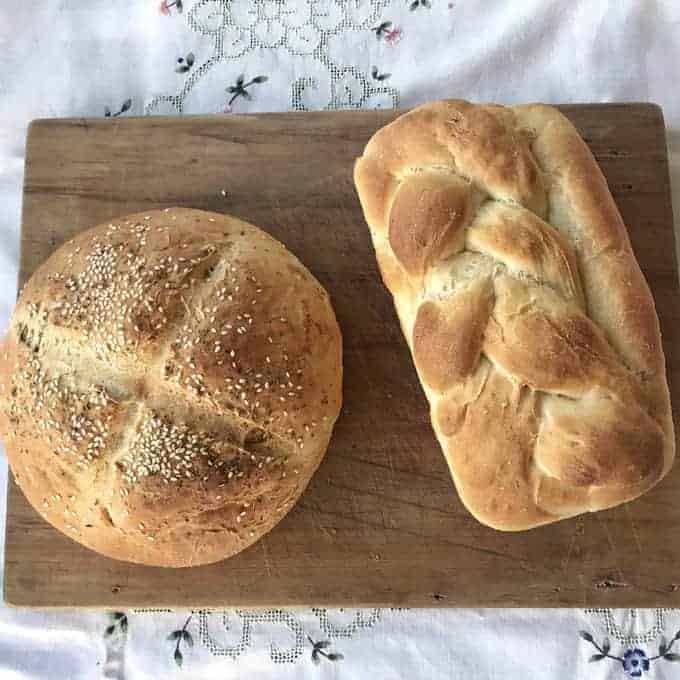 Mashed Potato Bread
Yield 2 loaves
If you have leftover mashed potato this delicious white bread is the perfect way to use it up. 
Ingredients
1/4 cup warm water
1 Tbsp dried yeast 
1 cup boiling water
2 Tbsp butter
2 Tbsp sugar 
1 Tbsp salt 
2 cups mashed potato 
5 cups flour 
Instructions
Mix together warm water and yeast in a small bowl, add a pinch of sugar help activate the yeast then set aside for 10 minutes.  
In the bowl of a stand mixer add the boiling water, butter, sugar and salt, stir together until butter has melted. Add the mashed potato and stir wth a fork until it has all broken up. 
Pour in the yeast mixture and add 3 cups of flour, set the mixer to low with the dough hook attached. Knead until most of the flour is incorporated then add two more cups of flour one at a time. 
Knead for 5 minutes on low until you have a silky dough, if it is too sticky add more flour and if it is too dry and starting to crack add water one tablespoon at a time. 
Remove the dough from the mixing bowl and shape into a ball, grease the bowl with cooking spray or butter and return the dough. Let it rise covered in a warm place for 30 minutes.
Punch down risen dough and knead a few times on a floured surface, split dough in half. Add dough to an oiled loaf tin or if you want a round loaf shape into a ball and put it onto a lined tray. 
Set aside to rise again in a warm place until almost doubled in size. If your kitchen is not warm enough you can set your oven to the lowest fanbake setting ( mine was 40.c ) with a bowl of boiling water and put the dough in there to rise. 
Once the dough has risen cook it in a preheated oven at 180.c fanbake for 45 minutes or until cooked though and golden. 
Remove from tin once cooked and allow to cool on a baking rack or serve warm with butter. 
Courses Baking
Cuisine New Zealand
Recipe by VJ Cooks at https://vjcooks.com/mashed-potato-bread/