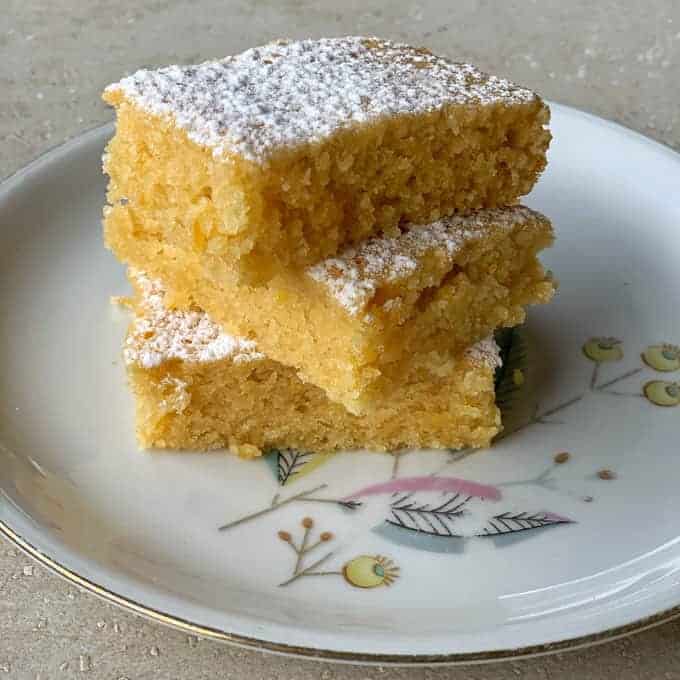 Lemon and white chocolate blondie
Yield 16 pieces
Ingredients
120g (4oz) butter
120g (4oz) white chocolate
3/4 cup brown sugar
80ml lemon juice (2 medium lemons)
Zest of one lemon
2 eggs, whisked
3/4 cup flour
1 tsp baking powder
1 Tbsp icing sugar to serve
Instructions
Pre-heat oven to 170° fan bake. (340°F)
Melt together butter and white chocolate in the microwave in 30 second bursts. Stir. 
Add sugar and lemon zest & juice, stir again and add in the eggs.
Sift in the flour and baking powder.
Fold everything together and whisk out any lumps. 
Pour into a lined slice tin.
Bake for 22 minutes until blondie feels firm on the surface. Allow to cool before cutting into squares.
Dust with icing sugar and serve.
Notes
My slice tin is 28 x 18cms
Keep in an airtight container in the pantry. Best eaten in the first 2 days. 
Recipe by VJ Cooks at https://vjcooks.com/lemon-blondie/