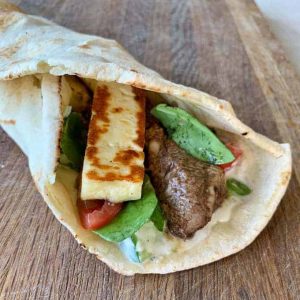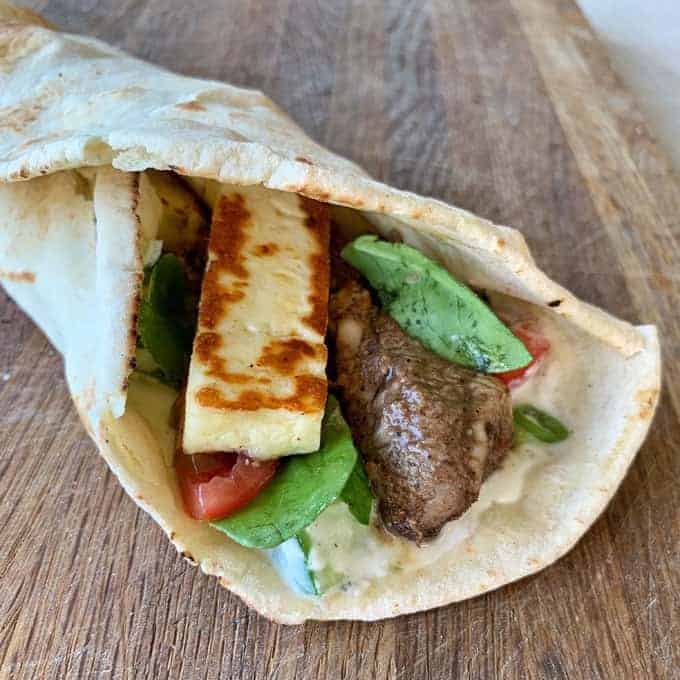 Lamb and haloumi wraps
Yield 4 wraps
Ingredients
Lamb
2 Tbsp olive oil
450g lamb leg steaks
2 tsp ground mix spice
1/2 tsp salt
3 cloves garlic, crushed
Tzatziki
1 cup thick Greek yoghurt
1/2 cucumber, diced
1 Tbsp lemon juice
Handful of mint (finely chopped)
To serve
180g haloumi
1 spring onion, sliced
12 cherry tomatoes, quartered
50g rocket (half bag)
4 wraps 
Instructions
Marinate the lamb in olive oil, mixed spice, salt and crushed garlic. Chill in the fridge for at least 30 minutes (if possible).
To make the tzatziki, mix together Greek yoghurt, cucumber, lemon and mint. Season with salt and pepper then set aside and chill in the fridge until ready to use.
Cook the lamb in a hot frypan for 3-4 minutes on each side then place on a board to rest while you cook the haloumi.
Cut the haloumi into 1 cm slices and pan fry for about two minutes on each side until golden and cooked through.
Slice the lamb into 2cm thick slices.
Warm the wraps in the oven or toast for 30 seconds on each side in a dry fry pan.
To assemble: spread the warm wraps with a generous dollop of the tzatziki, then add the cherry tomatoes, fresh rocket, sliced lamb and grilled haloumi.
Wrap them up and serve immediately.
Courses Dinner
Recipe by VJ Cooks at https://vjcooks.com/lamb-haloumi-wraps/