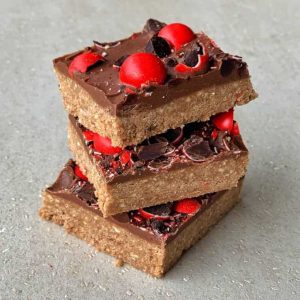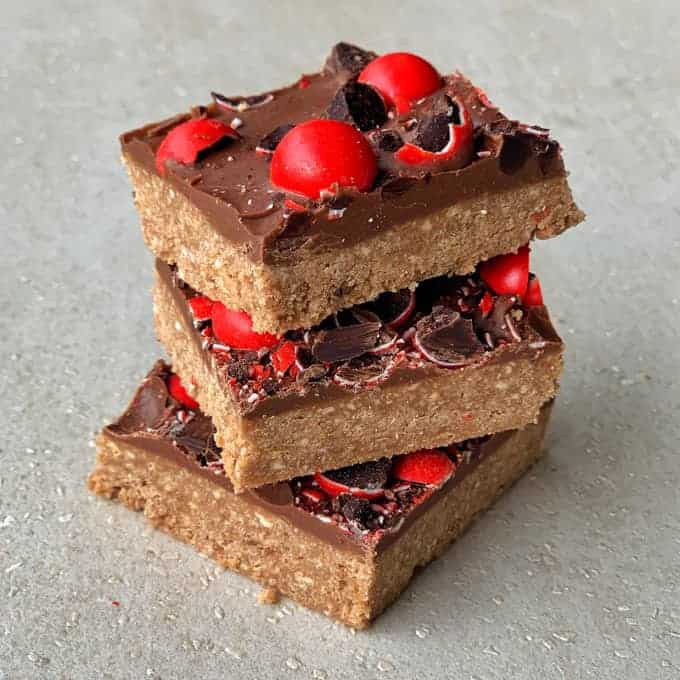 No bake Jaffa slice
Yield 20 pieces
This super easy no-bake slice will be sure to satisfy any chocolate cravings, the combo of milk chocolate and orange is delicious!
Ingredients
Base
125g milk chocolate (4.4oz)
175g sweetened condensed milk (about half a can)
125g butter (4.4oz)
1 pack arrowroot biscuits, crushed (250g/9oz) 
Icing
200g milk chocolate (7oz)
1 Tbsp vegetable oil 
1/2 tsp orange essence 
100g Jaffas (3.5oz)
Instructions
Line a 18 X 27cm slice tin with baking paper and set aside.
Add chocolate, condensed milk and butter to a microwave-safe bowl. Heat in 30 second bursts until all the ingredients have melted together and stir well.
Pour in the crushed biscuits then mix until combined. Press the mixture into the tray, spread to the edges and smooth the top with the back of a metal spoon.
To make the topping, melt the chocolate in the microwave in 30 second bursts.
Add the oil and stir until it is smooth, add the orange essence and stir again. Pour the chocolate over the base and spread it evenly to the edges.
Place the Jaffas in to a bag and break up with a mallet or rolling pin, sprinkle over the slice until it is all covered.
Chill in the fridge until set for 2+ hours. Take out of the fridge 20 minutes before cutting into slices (this makes it easier to cut).
Notes
If you don't have Arrowroot biscuits you could use another plain biscuit like Maries or Graham crackers
Keep in an airtight container in the fridge for up to a week.
Courses Baking
Recipe by VJ Cooks at https://vjcooks.com/jaffa-slice/