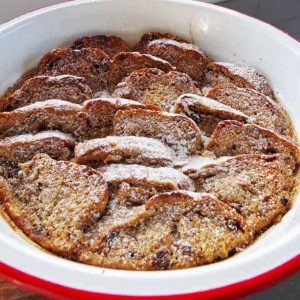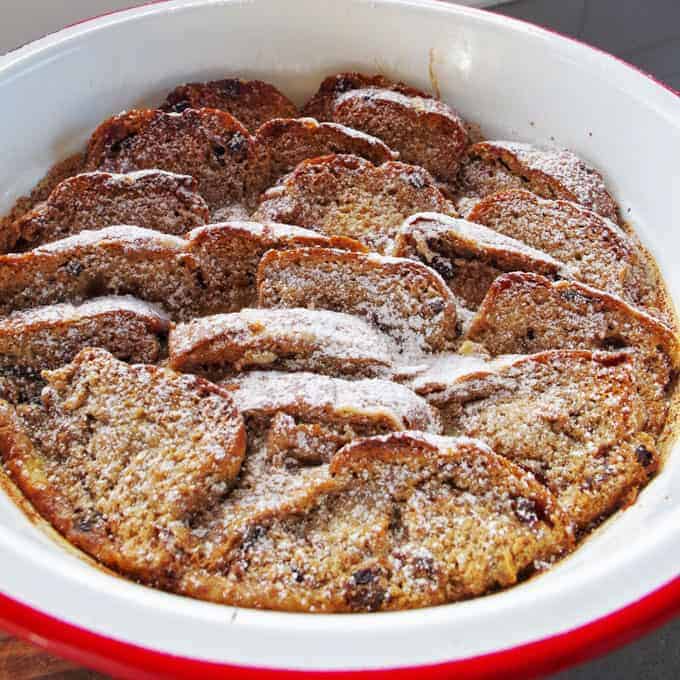 Hot cross bun bread and butter pudding
Yield 6 serves
Ingredients
6 hot cross buns 
30g butter, softened 
2 eggs
1 cup milk 
1 cup cream
½ tsp cinnamon 
¼ cup caster sugar 
1 tsp vanilla essence
1 tsp icing sugar
Instructions
Preheat oven to 180°C fanbake. Grease a large bowl with butter.
Slice hot cross buns 1 cm thick and spread each piece with butter. Arrange slices side by side in the bowl.
In a seperate bowl whisk together eggs, milk, cream, cinnamon, sugar and vanilla then pour over the hot cross buns.
Leave to soak for 10 minutes before putting it in to the oven.
Bake for 35 mins until golden and cooked through. 
Dust with icing sugar and serve with ice cream or custard. 
Courses Dessert
Recipe by VJ Cooks at https://vjcooks.com/hot-cross-pudding/