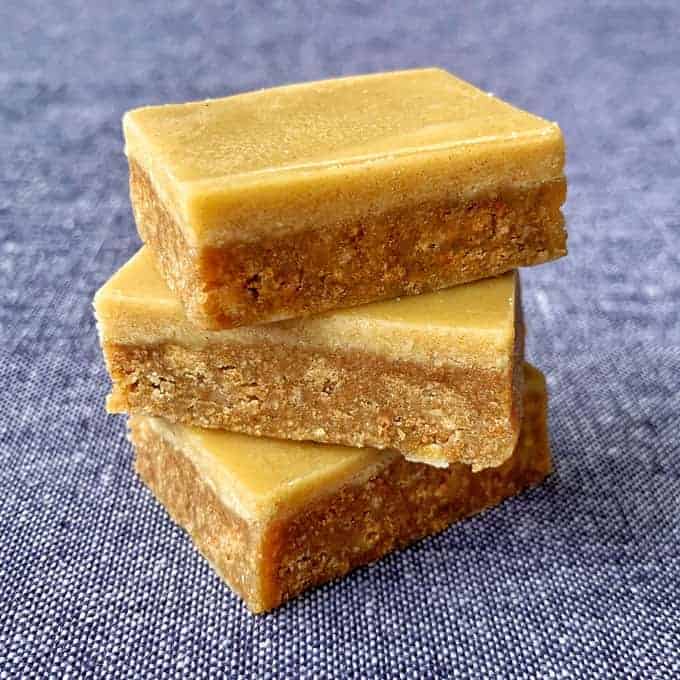 Gingernut slice
Yield 16 pieces
Ingredients
Base
1 packet Gingernut biscuits (250g) (9oz), crushed
80g (3oz) sweetened condensed milk
80g (3oz) butter 
Icing
50g (2oz) butter
1 Tbsp golden syrup
3/4 cup icing sugar
1 Tbsp ground ginger
Instructions
Finely crushed Gingernuts in a food processor.
Melt together condensed milk and butter in the microwave. (1 minute 30 seconds)
Stir together then add the crushed biscuits and mix well.
Press mixture into lined baking tin. (20 x 20 cm) (8 x 8in)
Chill base in the freezer while you make the icing.
Icing: Melt butter and golden syrup in the microwave then mix together.
Sift in icing sugar and ginger then whisk everything together until smooth.
Spread ginger icing over the base and chill in the fridge until set for 2+ hours.
Take out of the fridge 10 minutes before cutting into slices (this makes it easier to cut).
Notes
If icing is too thick add 1 tsp of boiling water to make it more spreadable 
Recipe by VJ Cooks at https://vjcooks.com/gingernut-slice/