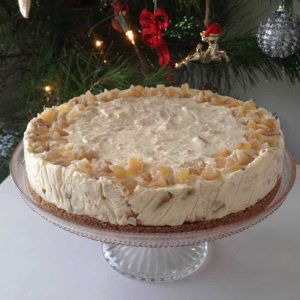 Ginger Kisses Cheesecake
Ingredients
1 packet Gingernuts 

100g melted butter

2 tsp powdered gelatin 

2 tsp cold water

500g cream cheese

1 tsp vanilla essence 

200g sour cream

3/4 cup caster sugar

1 packet of Ginger Kisses

1/4 cup crystalised ginger
Instructions
Crush Gingernut biscuits and mix with melted butter.

Wet a springform cake tin with a little water and line with clingfilm, press biscuit mixture into the tin using a spoon. Chill for 20 mins. 

Mix the gelatin and water together in a cup and set aside.

In a mixing bowl whip the softened cream cheese and vanilla until smooth, add the sour cream and caster sugar then mix until sugar has dissolved. 

Melt the gelatin in the microwave until it turns to liquid (10-15 seconds) and add to cream cheese mixture.

Chop Ginger Kisses and fold into the cheesecake mix, pour onto chilled base.

Chop crystalised ginger into small pieces and add to the top, chill cheesecake in fridge for at least 3 hours.

Remove from tin, slice and enjoy.
Recipe by VJ Cooks at https://vjcooks.com/gingerkisses-cheesecake/