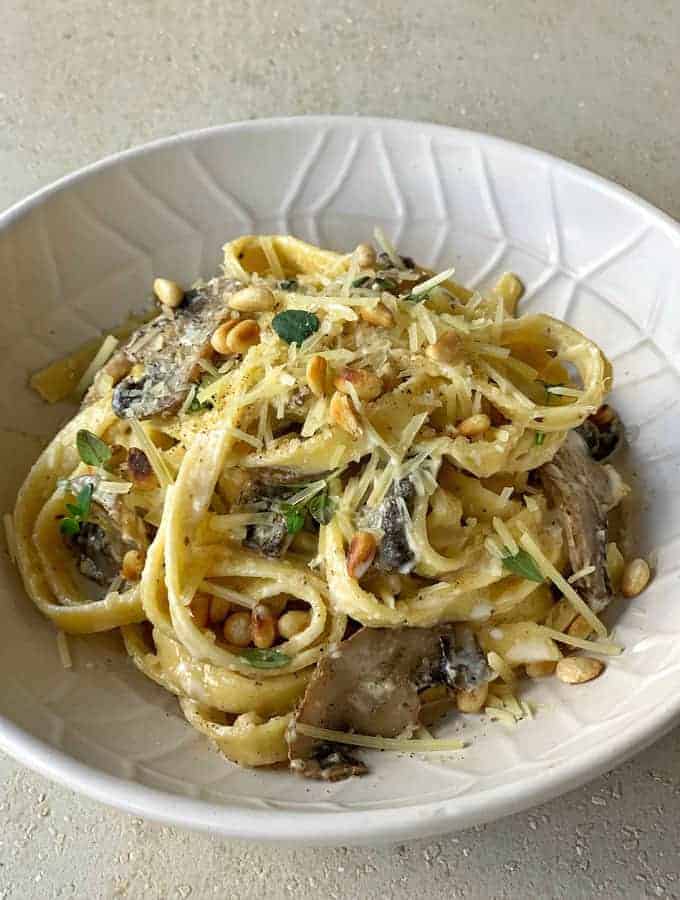 Creamy mushroom pasta
Yield 4 serves
Ingredients
400g Countdown fettuccine (14oz)
1 Tbsp Countdown olive oil
250g mushrooms, sliced
3 cloves garlic, crushed
1/4 cup white wine, optional
1 tablespoon fresh thyme
1 cup Countdown cream
40g grated parmesan
25g pinenuts, toasted
Instructions
Bring a large pot of salted water to the boil and add the fettuccine. Cook according to packet instructions. Drain and set aside.
Heat a large frypan on the stovetop and pour in olive oil. Add the sliced mushrooms and stir until they are cooked through.
Stir in the crushed garlic and cook for a minute, pour in the white wine and stir through the mushrooms.
Add the thyme then pour in the cream, heat until bubbling and add the grated parmesan cheese. Stir again to combine.
Turn off the heat then drop in the cooked fettuccine. Use tongs to cover all of the pasta in sauce. Season to taste with salt and pepper. 
Serve in bowls with plenty of freshly grated parmesan and garnish with fresh thyme and toasted pinenuts. 
Notes
You may need to add some of the pasta cooking water to loosen the sauce after you add the fettuccine. 
Courses Dinner
Recipe by VJ Cooks at https://vjcooks.com/creamy-mushroom-pasta/