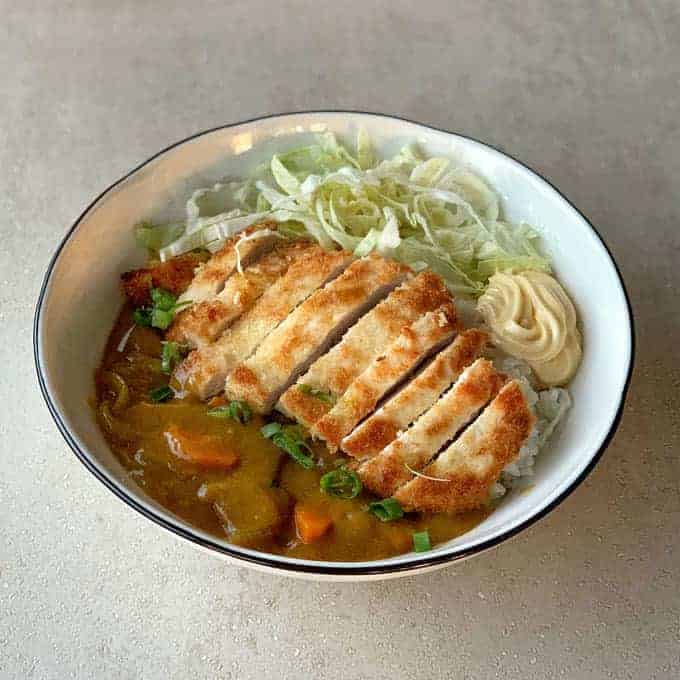 Chicken katsu curry
Yield 4 serves
Ingredients
500g chicken breast (2 chicken breasts)
1/4 cup of flour
1 egg
1 cup of panko crumbs
2 tbsp of olive oil
1 onion sliced
1 carrot, peeled & chopped
3 cups of boiling water
1 packet of Golden Curry mix 92g
2 cups of cooked medium grain rice
1 cup of shredded cabbage
4 tbsp of japanese mayo
1 spring onion, sliced
Instructions
Cut each chicken breast in half through the centre, place under a piece of baking paper and flatten with a mallet or rolling pin to make it an even thickness.
Coat chicken in flour, then egg and then panko crumbs.
Heat 1 tbsp of oil in a pan and fry chicken on each side until golden and cooked through.
To make the curry sauce: Sauté onion with oil in a large frying pan and stir until soft. Add carrot to the pan.
Add water and bring to the boil, add 1 packet of golden curry sauce and stir until dissolved. Simmer for 5 minutes and keep stirring. If the curry sauce becomes too thick then add more water.
Slice the cooked crispy chicken then add it to a bowl on top of the cooked rice, pour over the curry sauce and add cabbage, spring onion and Japanese mayo.
Courses Dinner
Recipe by VJ Cooks at https://vjcooks.com/chicken-katsu-curry/