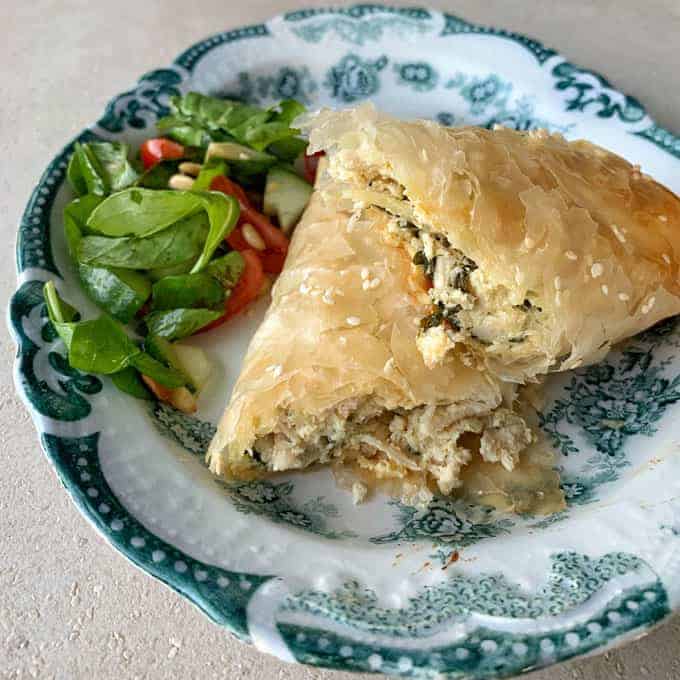 Chicken, spinach and feta filo parcels
Yield 6 serves
Ingredients
1 Tbsp olive oil 
1 onion, sliced 
6 cloves garlic, crushed 
1 bag of baby spinach (130g)
500g cooked chicken breast, chopped
150g feta 
2 eggs
12 sheets of filo pastry 
2 Tbsp sesame seeds
Instructions
Preheat oven to 190.C fanbake.
Heat a large frypan over medium heat, add olive oil and sauté sliced onion for 5 minutes until softened. Stir in crushed garlic then add baby spinach. 
Keep stirring until the spinach has wilted then add the chicken.
Turn off the heat and crumble in the feta and then crack in the eggs. 
Season well with salt and pepper then stir everything to combine. 
Set aside to cool slightly before wrapping in the filo. 
Place one sheet of filo onto a board and spray with oil. Layer over another sheet of filo and spray again.
Place 1/2 cup of chicken mixture in a line 5cm from one end, fold in the sides and then roll up the filo, spraying oil in between each fold. Roll up the remaining filo parcels. Spray the top with oil and sprinkle over sesame seeds.
Bake for 30 minutes until golden and cooked through. 
Serve hot with a fresh garden salad. 
Notes
If you want to cook the chicken breast from scratch then slice two large chicken breasts (600g) in half, season well and bake for 30 minutes until cooked through. Shred before adding to the mixture. 
Courses Dinner
Recipe by VJ Cooks at https://vjcooks.com/chicken-feta-filo/