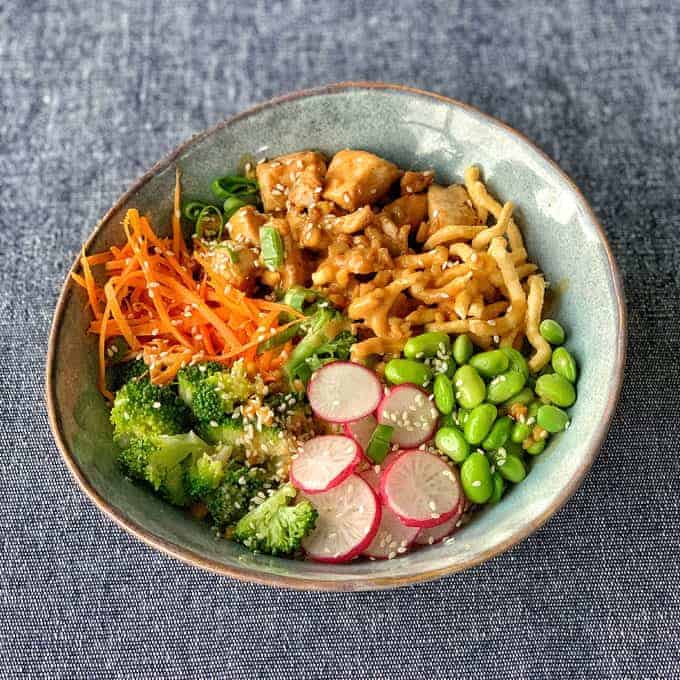 Chicken buddha bowl with satay sauce
Yield 4 serves
This chicken buddha bowl is a quick, easy and healthy midweek meal packed full of vegetables and served with satay dressing.
Ingredients
Chicken
500g chicken, diced
1 Tbsp oil
1 tsp sesame oil
1 Tbsp soy sauce 
Salad
2 cups of cooked brown rice
1 carrot, finely grated
1 cup cooked edamame beans
3 radishes, thinly sliced
1 cup of cooked broccoli, chopped
1 cup crispy noodles
1 spring onion, sliced
2 tsp sesame seeds
Satay sauce
75ml boiling water
4 Tbsp peanut butter
1 tsp brown sugar
1 Tbsp sweet chilli sauce
2 Tbsp soy sauce
1/2 tsp ground ginger
Instructions
Heat oil in a large frypan, add the chicken once it is hot. Fry for about five minutes turning chicken until it is cooked through. Pour in the sesame oil and soy sauce then stir through the chicken until it is all coated and all the liquid has evaporated. 
To make the salad divide the hot rice between four bowls, then arrange the carrot, edamame beans, radish, broccoli, crispy noodles, chicken and spring onion on top.
Scatter over the sesame seeds.
Serve drizzled with satay sauce.
Satay sauce
Place boiling water and peanut butter in a mixing bowl and stir until smooth. Stir in brown sugar, sweet chilli, soy sauce and ginger. Whisk everything together and store in the fridge until ready to serve. 
Notes
You may want to heat up your satay sauce before serving.
The chicken could be swapped out for diced tofu, beef or lamb.
Add Japanese kewpie mayo if you want an extra sauce.
Courses Dinner
Recipe by VJ Cooks at https://vjcooks.com/chicken-buddha-bowl/