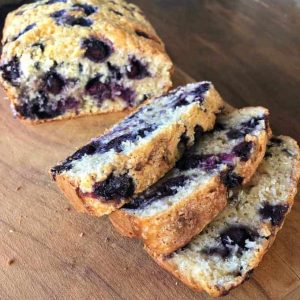 Blueberry and Coconut Loaf
Yield 1 loaf
Ingredients
1.5 cups flour
1 cup desiccated coconut
2 tsp baking powder
1 cup milk
1 egg, beaten
1 tsp vanilla essence
1 cup frozen blueberries
Instructions
Preheat oven to 170°C fanbake. Add flour, coconut, baking powder and WHOLE EARTH Sweetener Co. Baking Blend into a large bowl. Stir together with a whisk.
Make a well in the centre and pour in milk, egg and vanilla essence. Fold all ingredients together.
Add blueberries and fold again softly, pour mixture into a baking paper lined loaf tin. Add a few more blueberries to the top of the loaf and sprinkle over the Whole Earth Baking Blend.
Bake for 50 minutes until golden on top and a skewer comes out clean.
This delicious loaf is best served warm, I also love it sliced with butter.
Notes
TIP: This loaf also works really well in the toaster, a great breakfast treat.
1/2 cup Whole Earth sweetener equals 1 cup of sugar if you want to use standard sugar instead. 
Courses Baking
Cuisine New Zealand
Recipe by VJ Cooks at https://vjcooks.com/blueberry-and-coconut-loaf/