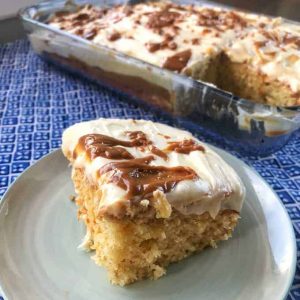 Banana Caramel Surprise Cake
This delicious banana caramel cake with cream cheese icing is based on the American Poke cakes, which is when you poke holes into the baked cake and spread over the filling before topping with icing. 
Ingredients
100g butter, melted
1 cup sugar
1 tsp vanilla essence
2 eggs 
2 bananas, mashed
2/3 cup milk
2 cups self raising flour
1 can Nestle caramel condensed milk (380g)
Cream cheese icing 
250g cream cheese
50g butter
1 tsp vanilla essence
2 cups icing sugar
Instructions
Preheat oven to 180°C fanbake.
Mix together butter, sugar, vanilla and eggs in a large bowl. Add banana and milk then stir again. 
Sift in flour and fold all ingredients together until combined.
Pour into a lined cake tray and bake for 30 minutes. (Mine is 22 x 30cm)
Once cake has cooled poke holes into the top, melt the caramel in the microwave for about a minute  then pour over the cake. Spread the caramel to the edges. Reserve about 2 tablespoons of caramel to drizzle over the cake at the end.
To make the icing make sure the cream cheese and butter is at room temperature and softened. 
Use a mixer or electric beater to beat together cream cheese, butter and vanilla. Once mixed scrape down the sides and add icing sugar then beat again until the icing is soft and fluffy.
Spread the icing over the cake and drizzle over the remaining caramel. Cut the cake into slices then serve. 
Courses Baking
Cuisine New Zealand
Recipe by VJ Cooks at https://vjcooks.com/banana-caramel-cake/