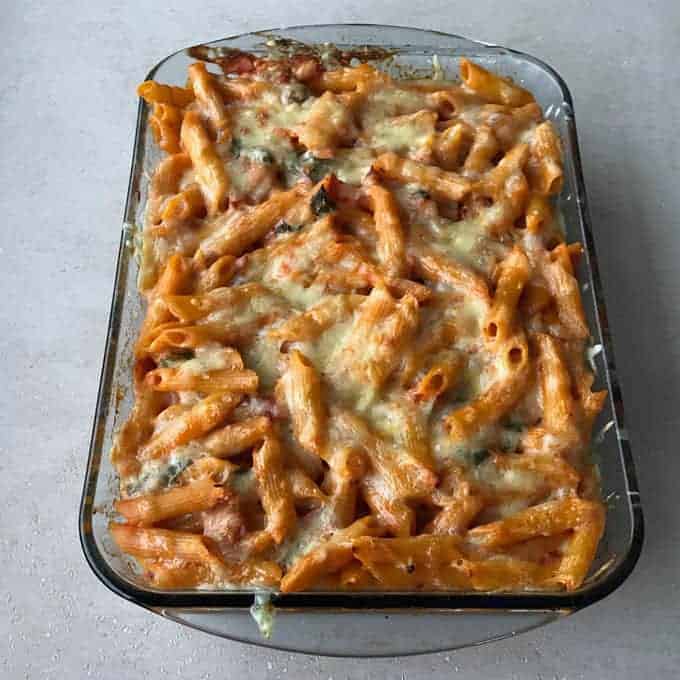 Easy bacon pasta bake
Yield 4-6 serves
Ingredients
500g penne pasta
250g bacon, chopped
3 cloves garlic, crushed
1 can crushed tomatoes
250ml Philadelphia cooking cream
1/2 bag baby spinach
1 cup grated cheese
Instructions
Preheat oven to 200ºC fanbake.
Cook pasta according to packet instructions. 
Fry bacon in a large frypan until cooked through, add garlic and stir together.
Pour in canned tomatoes and stir, add the cream and stir again until it has all melted together.
Add the baby spinach to the sauce then season to taste with salt and pepper. 
Combine the sauce with cooked pasta and pour into a baking dish.
Spread grated cheese over the top. 
Bake for approximately 20 minutes or until golden and bubbling.
Serve immediately. 
Notes
This pasta bake is great to put in the freezer for later! Just make the recipe up until step 7. After adding the cheese to the top let it cool then cover in cling film and freeze.
This recipe is also great meal prep for lunches, just heat for 1-2 minutes until piping hot in the microwave at work.
Courses Dinner
Recipe by VJ Cooks at https://vjcooks.com/bacon-pasta-bake/