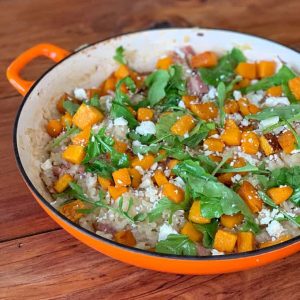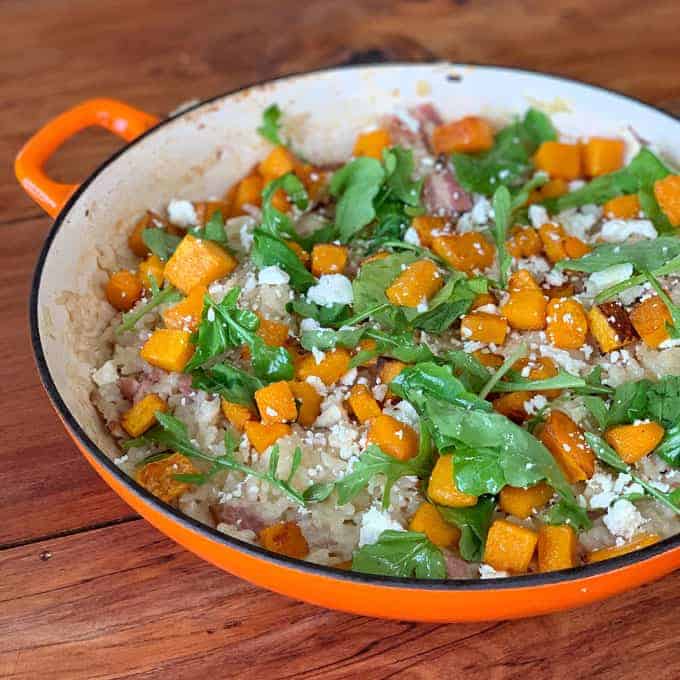 Bacon, butternut and feta baked risotto
Yield 6 serves
Ingredients
½ butternut squash / pumpkin 
2 Tbsp olive oil
1 onion, diced
200g bacon rashers, sliced
4 cloves garlic, crushed
1½ cups arborio rice
1 litre chicken stock
25g butter
½ cup grated parmesan, plus extra to serve
50g fresh rocket leaves
50g feta
Instructions
Preheat oven to 180ºC fanbake. 
Peel and cube the butternut then coat in 1 Tbsp olive oil, spread onto a non-stick oven tray and bake for 40 minutes or until golden, turning once during cooking.
In an ovenproof dish, sauté onion with 1 Tbsp olive oil for a few minutes, add bacon and brown. Add crushed garlic and stir through.
Add rice and pour stock in slowly while stirring it all together. Cover and put into oven.
Cook for 35 minutes, stirring once halfway through cooking.
Remove from oven and add butter and parmesan. Fold together until butter has melted.
Scatter over roasted butternut cubes and fresh rocket. Crumble over the feta. 
Season to taste and serve immediately with more freshly grated parmesan.
Recipe by VJ Cooks at https://vjcooks.com/bacon-butternut-risotto/