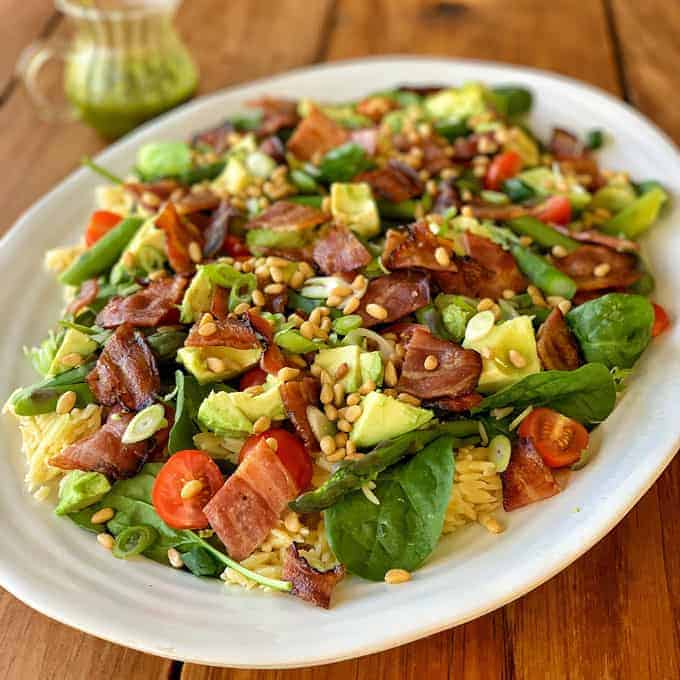 Asparagus and bacon pasta salad
Yield 4 serves
Ingredients
400g risoni / orzo
1 bunch asparagus
250g streaky bacon
100g baby spinach
200g cherry tomatoes
2 avocados, diced
2 spring onions, sliced
50g pinenuts, toasted
50g fresh parmesan shavings (optional)
Dressing
Instructions
Cook risoni according to packet instructions. 
Slice each asparagus stem into three pieces and then boil until just cooked.
Grill bacon rashers in the oven until crispy then chop into bite-size pieces.
Assemble the salad on a large platter starting with the cooked risoni and stir through baby spinach. Top with a layer of cherry tomatoes, cooked asparagus, avocado, crispy bacon, spring onion and toasted pinenuts. Add parmesan if using.
To make the dressing whisk together pesto and olive oil, serve in a small jug. Pour over the salad just before serving.
Notes
If you want to make this salad ahead of time, store in the fridge then add the avocado and crispy bacon just before serving. 
This salad serves 4 as a main or 8-10 as a side dish.
Recipe by VJ Cooks at https://vjcooks.com/asparagus-bacon-salad/